Stitch Upon a Time is an original design based pattern company located in MI, USA with customers all over the world.
Stitch Upon a Time started out as an idea, and then a dream in a ten-year-old's mind. At the time, I changed my future profession plans every 6 months, so there was no evidence that this one was going to stick. It wasn't until ten years later, in a McDonald's lobby on a borrowed laptop, that the dream began to flourish. Except that the dream wasn't *quite* what Stitch Upon a Time has actually become. I wanted to make a living by sewing. Who wouldn't want to make money doing what they love? But the only way I could imagine that was with being a tailor. Never mind that I LOATHE doing alterations…I currently have a pile of the family's clothes that need alterations that have been stacking up for years. Luckily, a good idea led Stitch Upon a Time in another direction.
Starting a family is expensive and my budget was tighter than my too-tight and uncomfortable waistband. So out of necessity, I began to sew clothes for myself and my son that were comfortable and flattering. At the same time, I sewed custom items for my customers using patterns that I made myself. All it took was a pair of adorable baby pants and a strong push from the members of a sewing group for me to steer the business in yet another direction. That was in 2013 and the adorable baby pants were the Beanstalk Britches pattern.
When I'm not blissfully sewing or encouraging customers, I love to be exploring, taking pictures, or creating beautiful things in every other form. I like to take an idea and immediately run with it. This spontaneous trait has led to some of my best successes and working on what I'm currently most passionate about leads to patterns that are thorough (but not too wordy), clear, and on trend. I love to make clothes that are beautiful on all body types and the patterns are easy for even a novice sewer/ist to work with. I'm so happy to tie a neat bow around all that I love using Stitch Upon a Time as the ribbon.
Please take a look at the 'free' section of the shop, select a pattern you'd like to try, and give it a go! If you get stuck or have any questions, you can email me or ask in our community of over 50,000 members.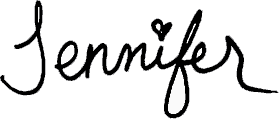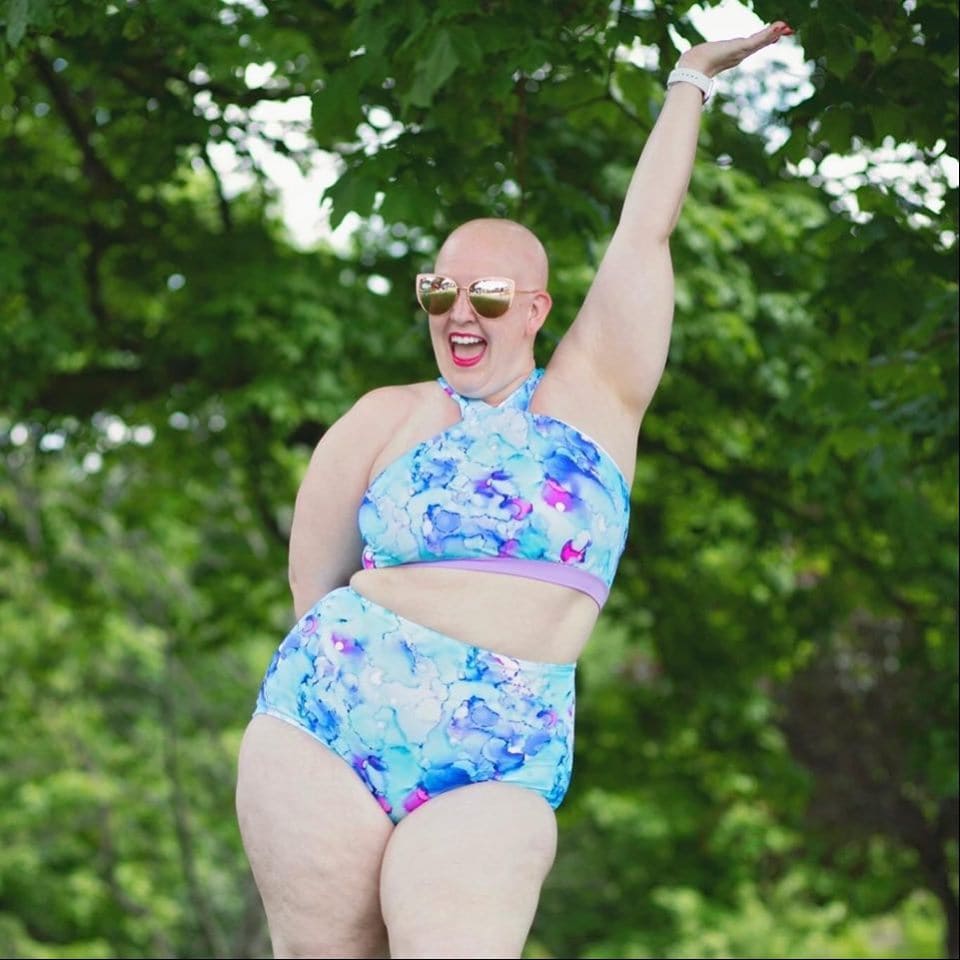 Kelly Stevens
Designer
Kelly is the lead designer and vice president of Stitch Upon a Time.
"
If you looked up the definition of me in the dictionary it would probably say "a little bit extra, A for effort."

I grew up in Northern California, with a great grandmother who hand-sewed, embroidered and quilted, a grandmother who loved all crafts and the tools that went with them, and a mother who used the tools my grandmother bought. I used to love to go with them to weekend quilt shows because I was always guaranteed a yummy lunch out somewhere after.

I now live in Ohio with my husband, who I met while we were both stationed (Marine Corps) in San Diego. We settled here after he retired and I was medically separated. I have two kiddos with my husband, Adeline and Lushen, then two bonus kids who are 26 and 23. I just became a grandmother last summer too!

I began sewing clothes after my son was born and I was too stubborn to pay for cloth wipes. It took me two hours to wind the bobbin the first time despite having a youtube video detailing exactly what I needed to do. I don't think there have been many days between then and now that I haven't sewn something, cut something to sew, or worked on a new pattern to sew. I'm enamored and even took my sewing machines on a cross-country road trip with my mom and both kids two summers ago!

I spent the last nearly three years designing for another company. Coming to work at SUAT feels like coming home. I'm so happy to be here!"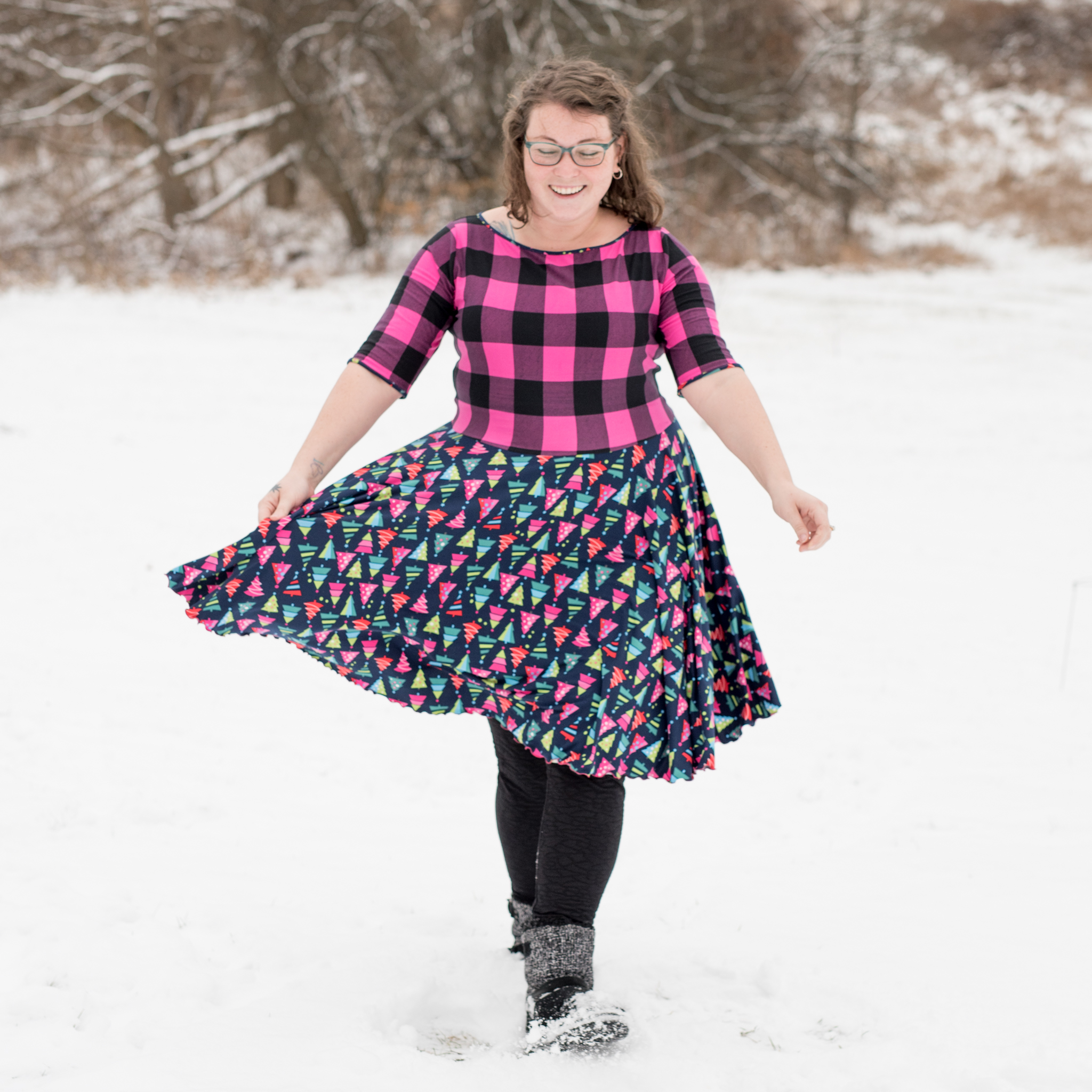 Jennifer Getter
Owner/Visionary
Jennifer is the owner of Stitch Upon a Time.
"I was gifted a wonderful antique sewing machine when I was 10 by my most favorite nurse, Amy. My mom, dad, and stepdad each gave me pointers in the beginning, but it wasn't until nearly 10 years later that I began to learn what a seam allowance is, why my thread always nested, and why needles frequently broke off in my face. I honestly don't understand why so many projects turned out fine in the beginning but now I understand why the pattern sizing was always off- the seam allowance isn't just a suggestion! Sewing has always been a form of therapy for me. When I desperately wanted to start my family, I began sewing baby clothes nonstop. And when my first marriage was falling apart, sewing helped when nothing else could.
The only thing I love more than Stitch Upon a Time and sewing is my family. I have two kids, Jason and Ginnevieve, who you have probably seen as my little models in the past, and my husband Travis is the reason that I get so much done. I couldn't ask for better support. I have a huge, sappy heart; I like to use my talents to make the world a little nicer by paying it forward whenever I can. I'm so thankful that I've been given all of the tools to turn this opportunity into a dream come true."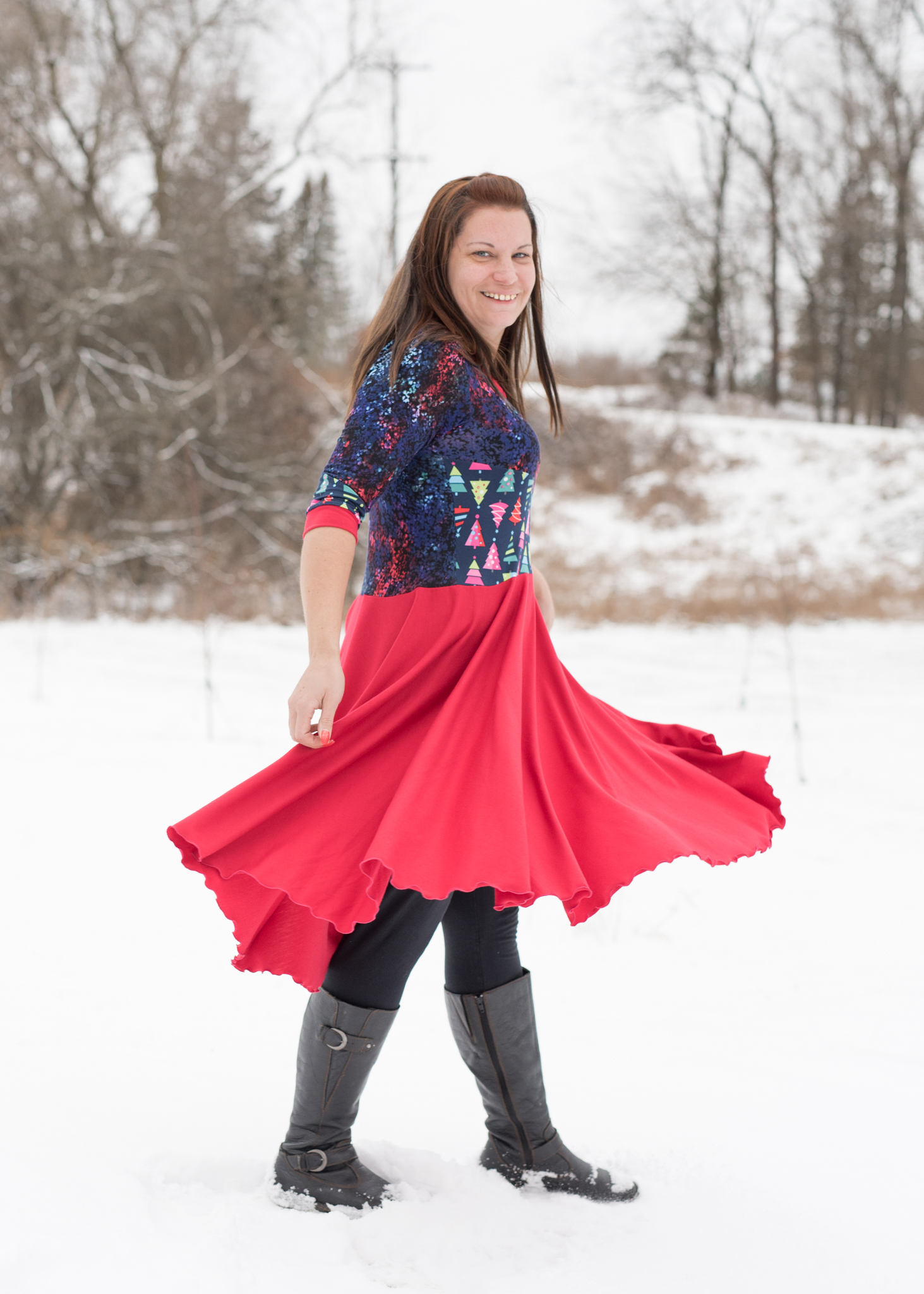 Leslie Getter
Fabric Manager
Leslie has been an admin for the business facebook group since the early days and she had an equal hand in starting the
fabric department
, which began in November, 2017. She is also our lead customer service team member.
"Years ago, sewing on my livingroon floor with my sister, making renaissance costumes is when I started sewing. I never imagined that I would actually be good at it, back then we didn't know what a seam allowance was or how to hem a dress. We do now, and now we understand why things might not have fit like we wanted! LOL
I love working with the SUAT community, and who doesn't love cutting into beautiful fabric? My favorite part of managing the fabric side of SUAT is seeing pictures of what you created using the SUAT patterns and fabric! When I am not playing with fabric or working my full time job, I am spending time with my family. I look forward to weekends with my nieces and nephews, they are fun and full of energy! I try to live in the moment and take nothing for granted."