The Meadow Dress is a gorgeous pattern that has an elasticized, off-the-shoulder neckline with multiple sleeve and skirt lengths. The neckline has a lovely paper bag edge that really adds a nice detail to the dress. I wanted something a little simpler for my navy floral rayon so I decided to make my dress with a plain neckline. It's an easy adjustment to the pattern and who doesn't love more options?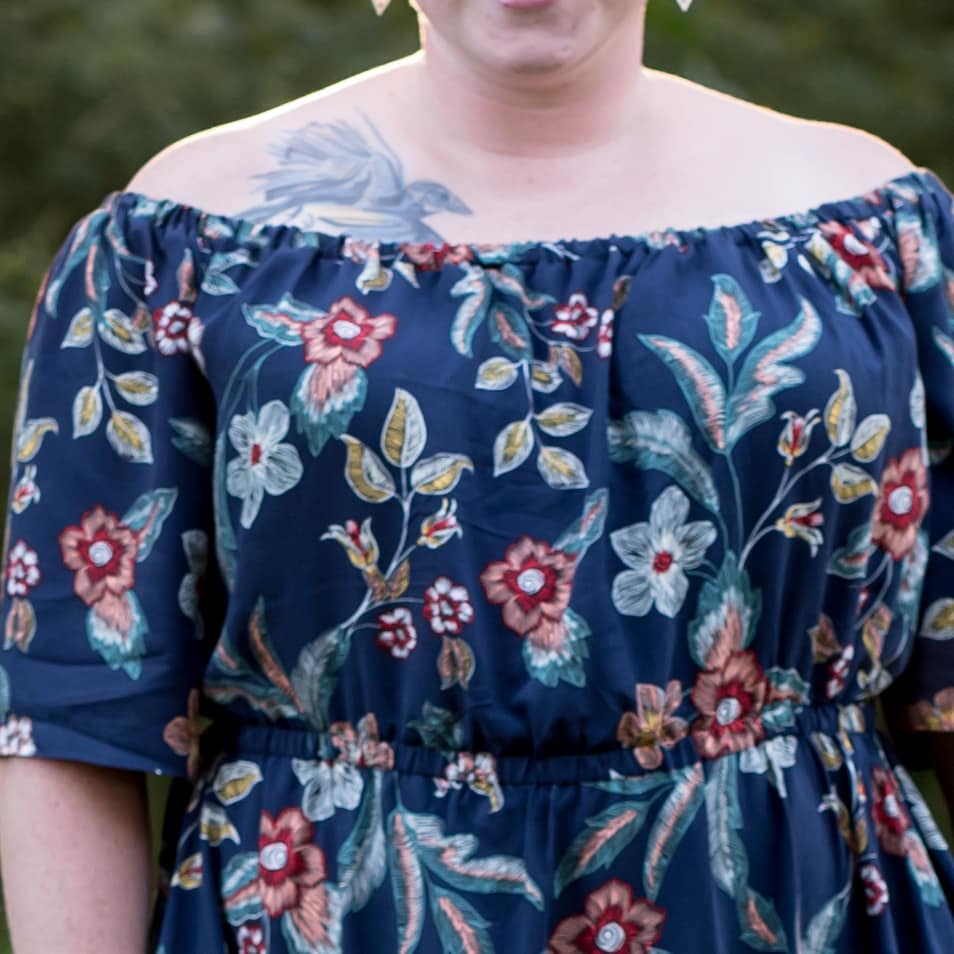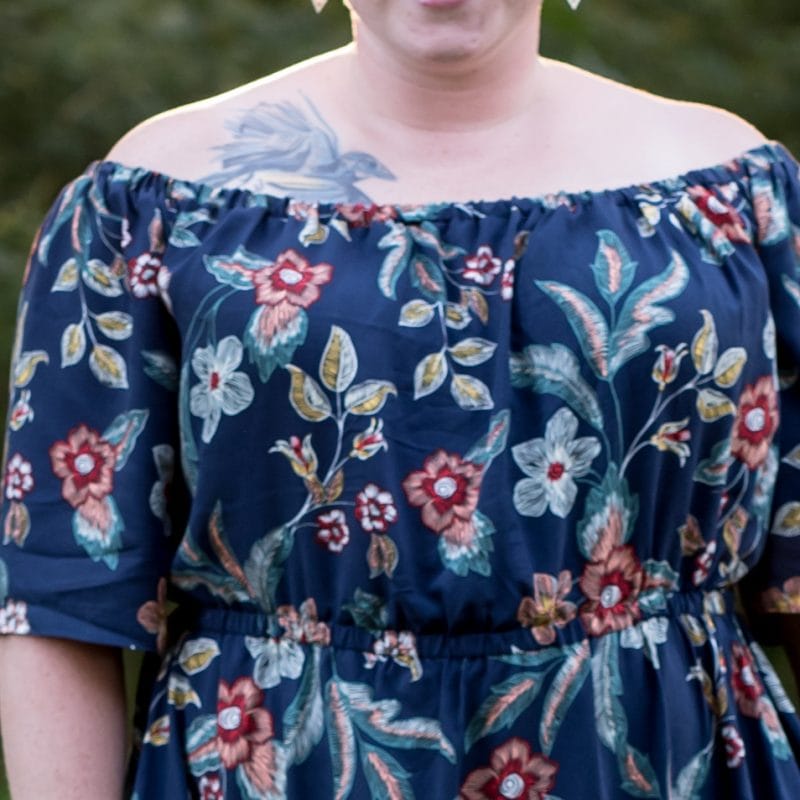 To start, cut the Neck Casing at 3.75″ rather than 5.75″ wide if you plan on using 1″ wide elastic. I'm using 1/2″ wide elastic so I went with a 2.75″ casing instead.
Finish your garment up to the section, "Finishing the Paper Bag Top Casing" on page 15 of the pattern.
Sew the short ends of the Neck Casing together with RSF.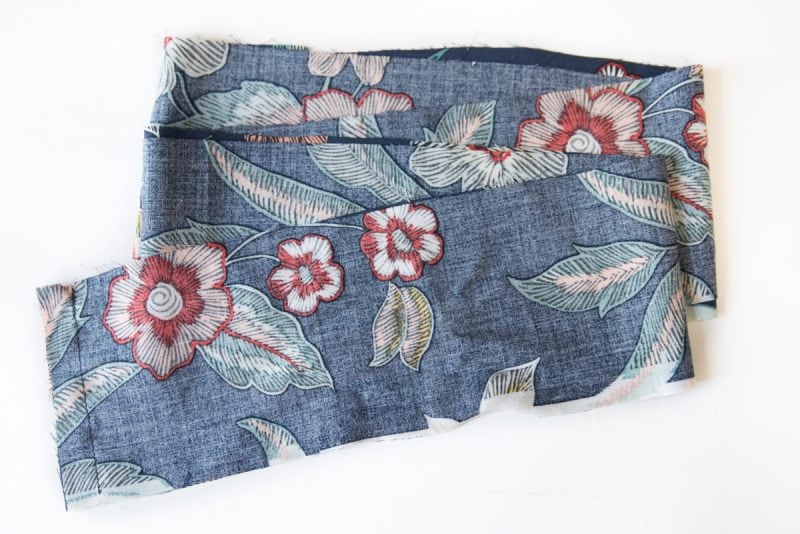 Press the seam allowance open.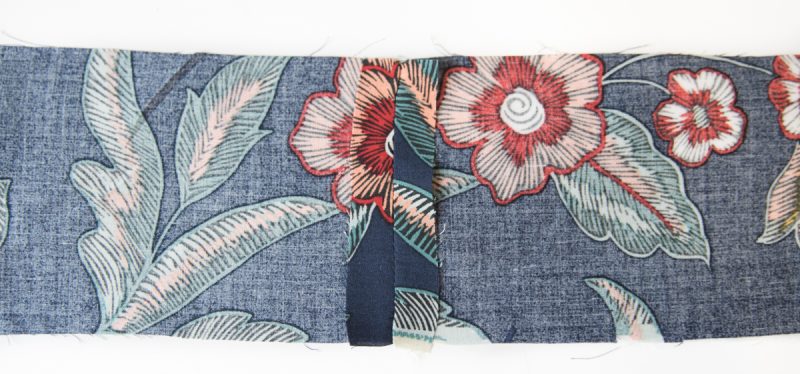 Fold the Casing in half with WSF, aligning the raw edges. Press.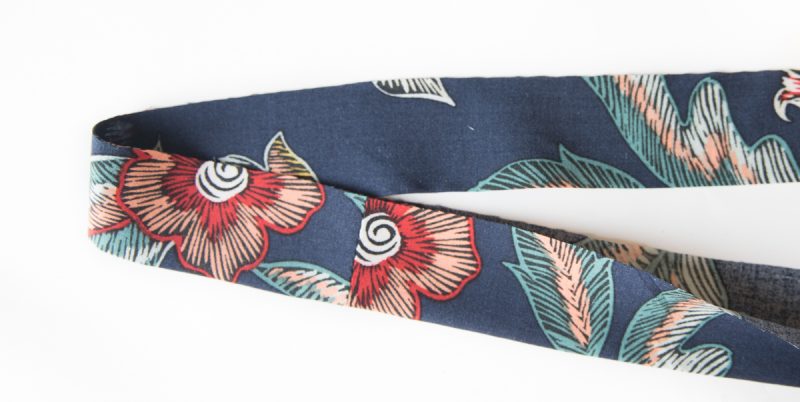 Place the Casing around the Bodice and Sleeves with RSF. Align the seam of the Casing with a seam of the Bodice. Pin together frequently.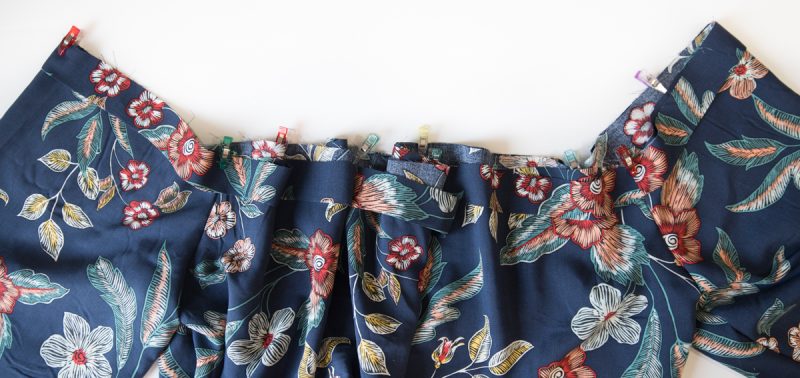 Starting at the seam of the Casing, and using 1/2″ seam allowance, sew together where pinned. Leave a 2″ gap for inserting the elastic. Use a zig zag or serger to finish the raw edges, also leaving a 2″ gap in this stitching.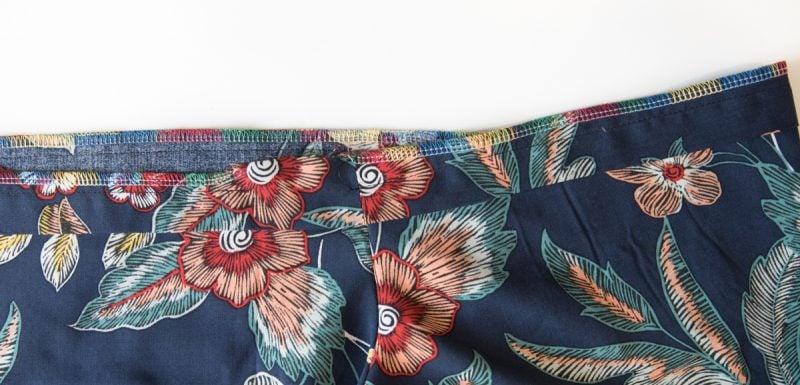 When making your first Meadow, I recommend cutting the Neck Casing Elastic 1″ longer than suggested in the pattern. Use a safety pin or bodkin to thread the elastic through the casing. Pin the ends of the elastic together. Try your Meadow on and adjust the length of the elastic, make sure to note the length of elastic that you ended up using for future reference.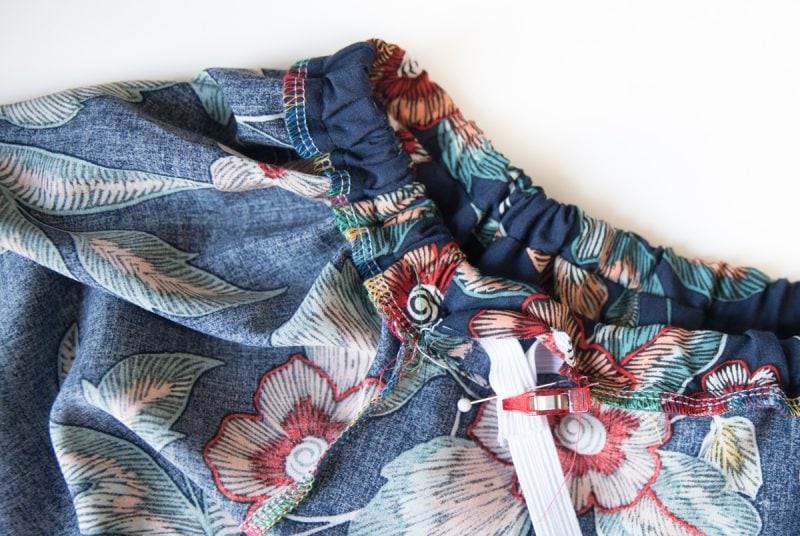 Pin the ends of the elastic together as instructed in the pattern and sew together.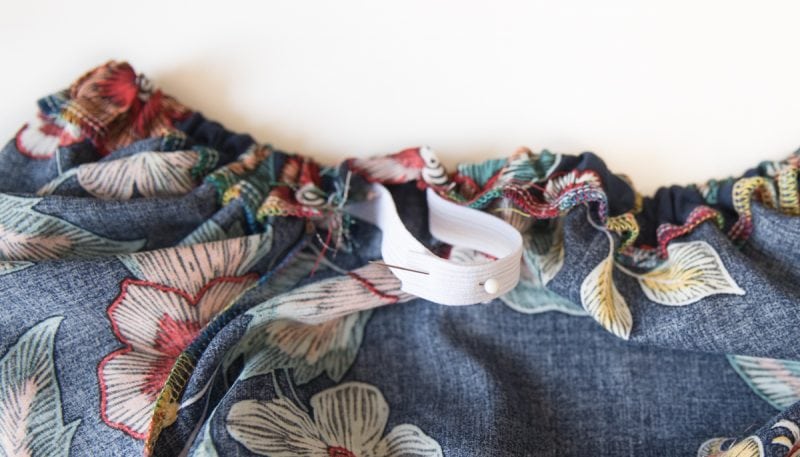 Stretch the elastic and distribute it evenly through the Neck Casing. Sew the 2″ gap shut then finish the remaining raw edge. I used regular braided elastic in my Meadow dress which has a tendency to rolling as you wash and wear it. To prevent this from happening, I made sure the elastic in the neckline and waist were distributed evenly, then I sewed it in place at the seams of the sleeves (for the neckline elastic) and the side seams (for the waist elastic). Even if the elastic rolls within the short sections of the casing, it'll be much easier to flip it back the right way.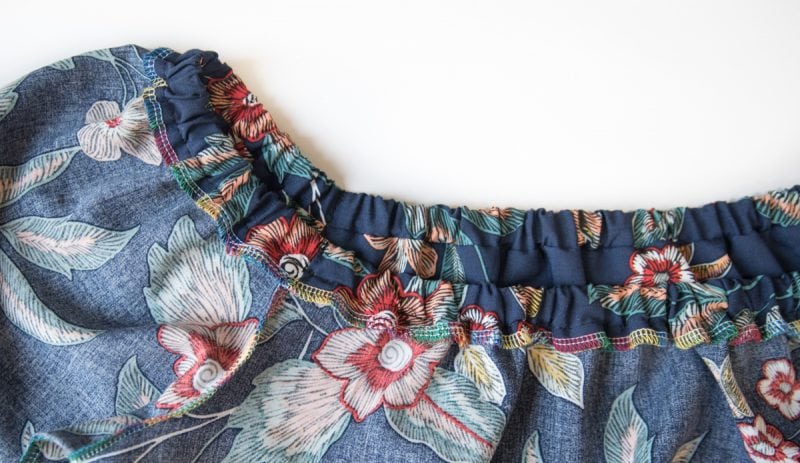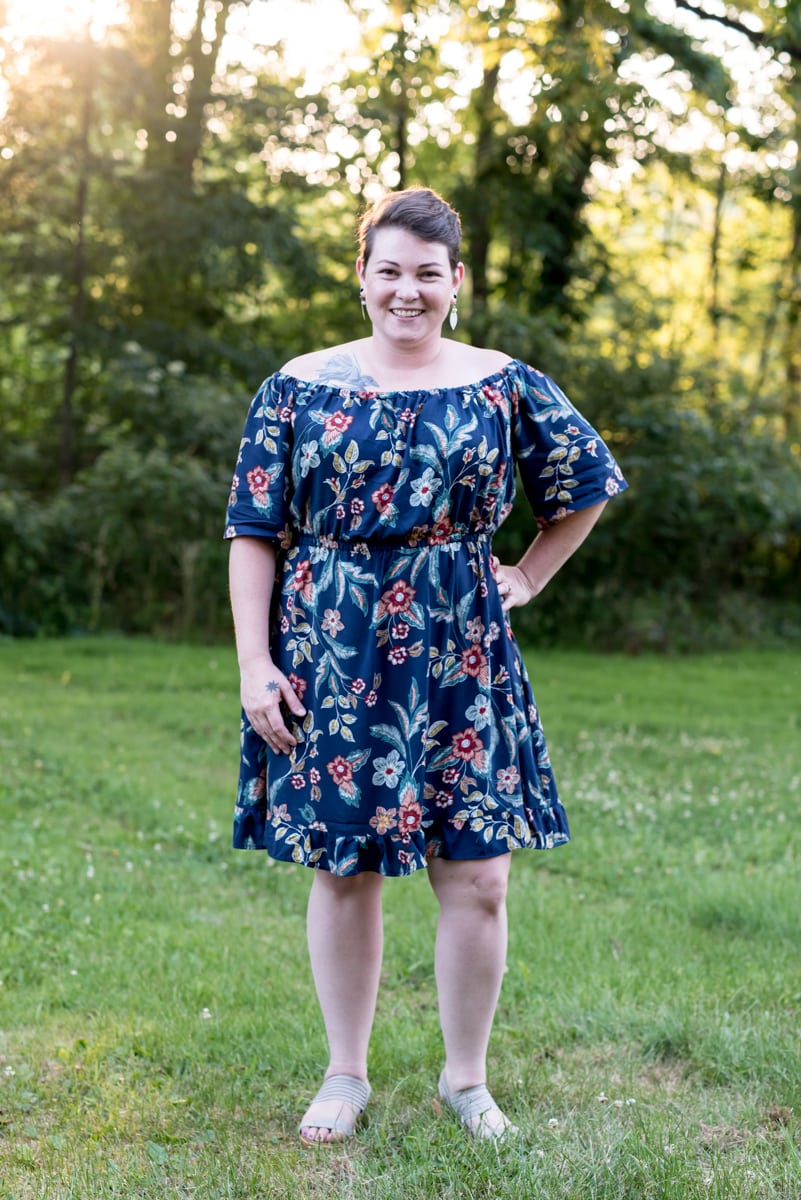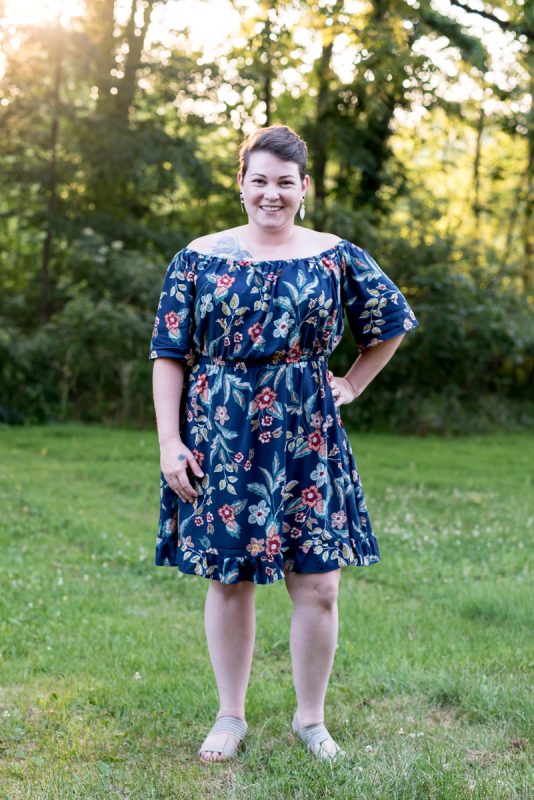 I'm in love with my Meadow dress and have received so many compliments already! I feel like it hugs and hides in all of the right places for my body. I'd love to hear how your Meadow turned out! Use the tag #suatmeadow when sharing on social media and join the conversations in our facebook group.
Happy Sewing!