There are many ways to adjust a sewing pattern for a full bust, as there are many different styles of bodice patterns. This tutorial will go over how to know if you need an FBA and how to create one on a snug pattern without darts.
Do I Need a Full Bust Adjustment?
Most sewing patterns are designed for a B cup, of course there are exceptions but when a pattern is designed for a cup larger than B, you will usually find that information in it's description. All Stitch Upon a Time women's patterns are designed for a B cup. With most fitted knit garments you can simply blend sizes to allow for more bust room. When your bust is more than a couple cups above a B you will notice that blending doesn't work as well and when you're making a bodice that needs to provide support (like a sports bra or swim top), doing a Full Bust Adjustment is the best way to go for a great fit.
Measuring
Sewing cup sizes aren't always the same as bra cup sizes so it's important to always measure. You'll need to measure your Full Bust and your High Bust/Upper Bust. For every inch larger your Full Bust is over the Upper Bust, that's a cup. So if your Full Bust is 40″ and your Upper Bust is 36″, that's a D cup which is two cups larger than the pattern is designed for.
After measuring, if your cup is larger than a B cup, you'll want to use your Upper Bust measurement plus 2″ to choose which size to make. (If you have larger than B cups and choose your size based on your Full Bust then the Back, underbust, and shoulders will be too large.) Ex: if your Full Bust is 40″ and your Upper Bust is 36″, you will add 2″ to the Upper Bust measurement to get 38″ and use that measurement to look under "bust" in the measurement chart.
Finding the Apex/Bust Point Without Darts
Typically fitted woven bodice patterns have darts at the bust and the waist that point to the area where the apex (bust point/fullest point of the bust) of the bodice is designed to be. It's difficult to know where the apex is when the pattern doesn't have darts and especially when the bodice is designed to have negative ease (meaning the garment will stretch around the body)like a sports bra or swim top. Here's a simple equation to calculate the bust point locations for your Bodice Front.
Note- The widest point of a bodice pattern is usually in line with the apex. Measure 1/4″ below the widest point of the bodice on a pattern with 1/4″ seam allowance.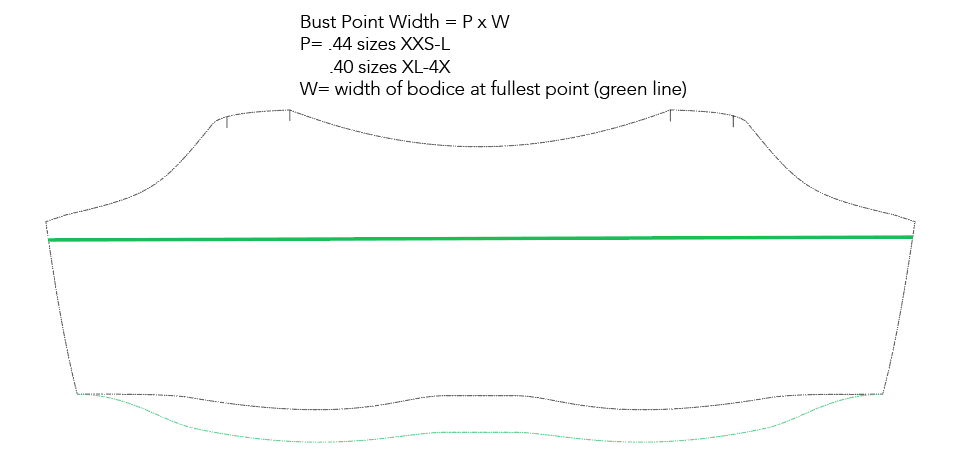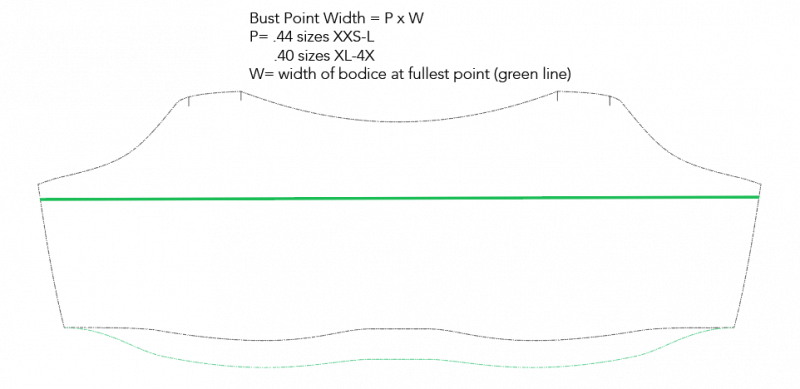 Bust Point Width = P x W
P is the percent of the width of the Front Bodice that is between the bust points- about 40-44%.
W is the width of the bodice 1/4″ below the fullest point.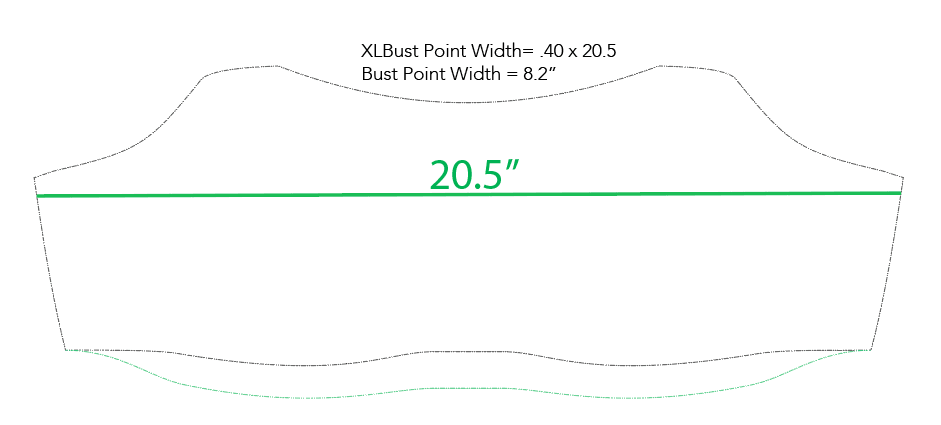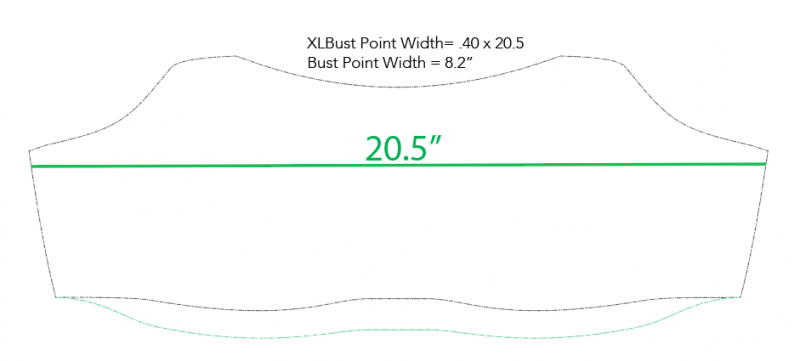 Our Bodice Front is 20.5″ wide and we're sewing an XL so let's plug this numbers into the equation:
Bust Point Width= .40 x 20.5″
Bust Point Width= 8.2″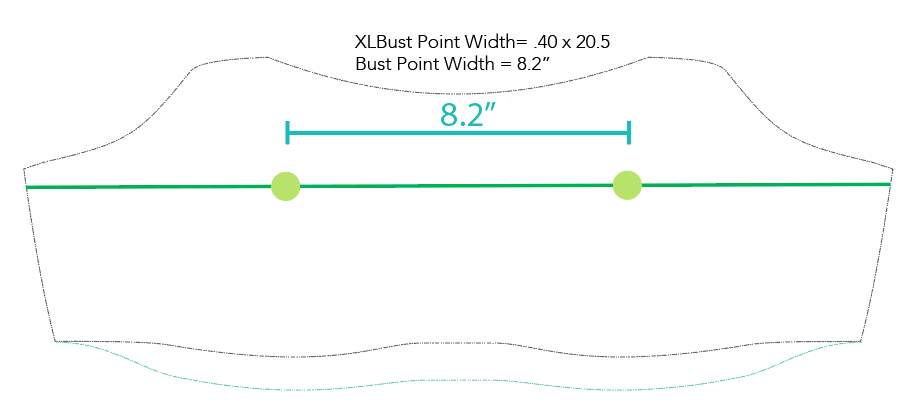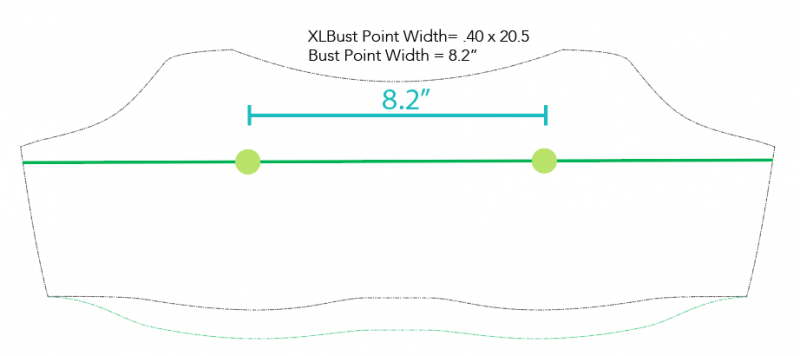 Now center the Bust Point Width along the the green line and mark the ends (lime circles). These are your bust points. This equation will be fairly accurate on all bodices, including those with positive ease.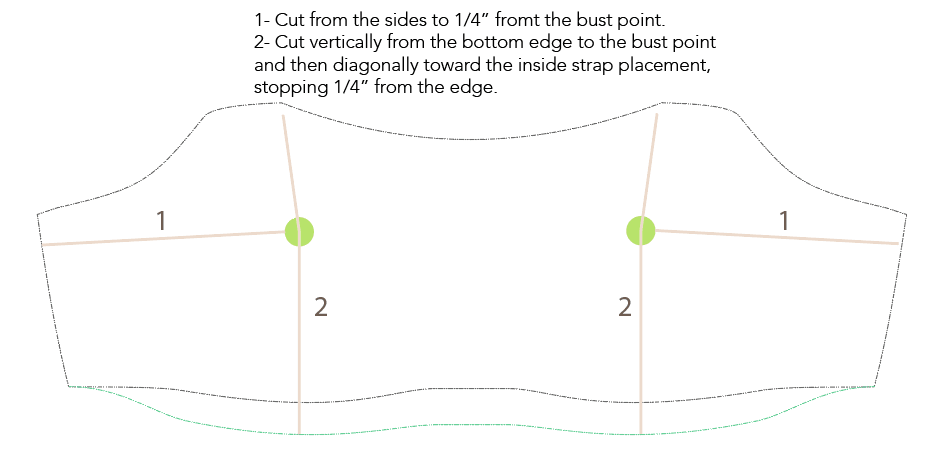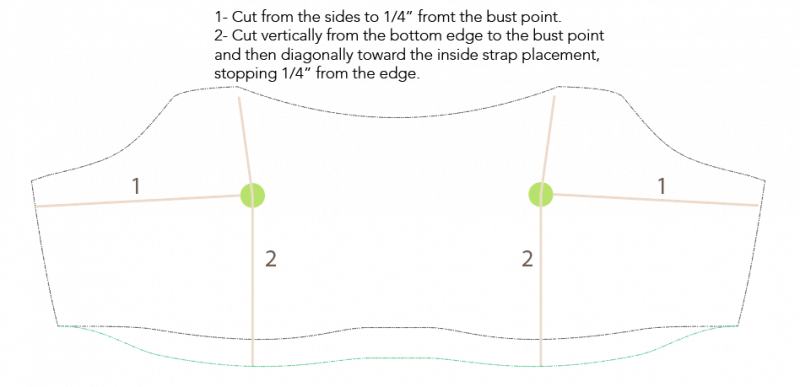 Make cuts on the pattern piece according to the diagram above. Make sure the stay 1/4″-1/8″ away from the bust points and the top edge of the bodice so we can pivot the pieces.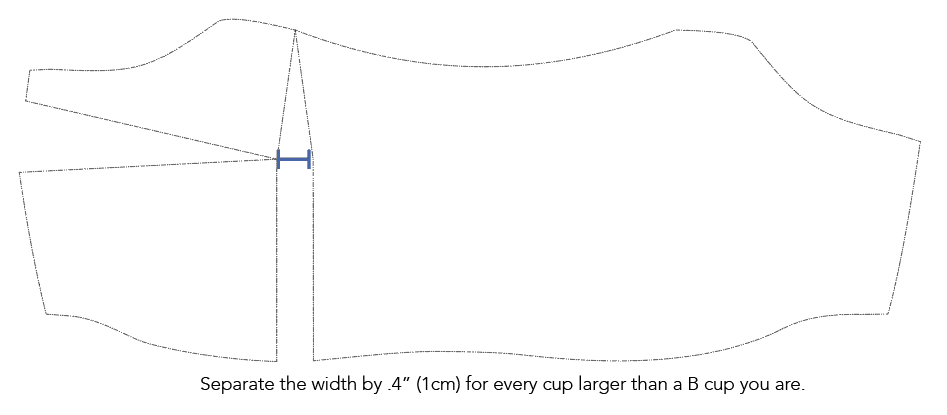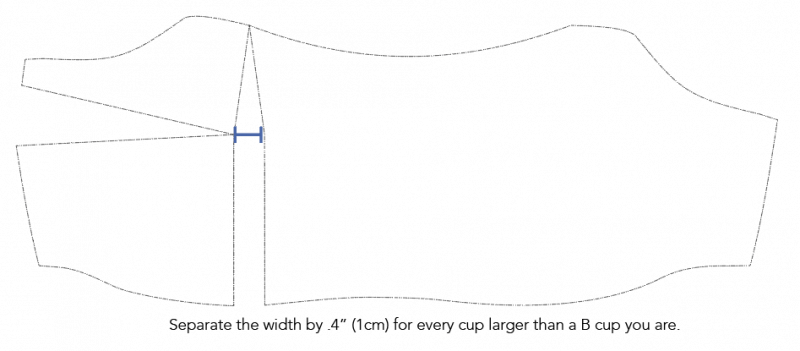 For every cup size you are that's larger than a B cup, separate the pieces by .4″ (1cm). For a D cup you'll separate them by .8″ (2cm) since we are 2 cups larger and 2 x .4 = .8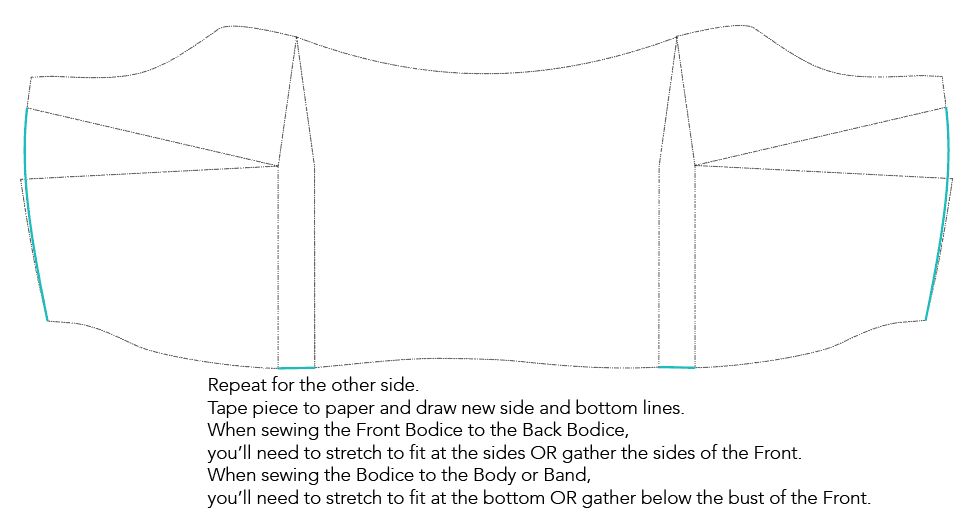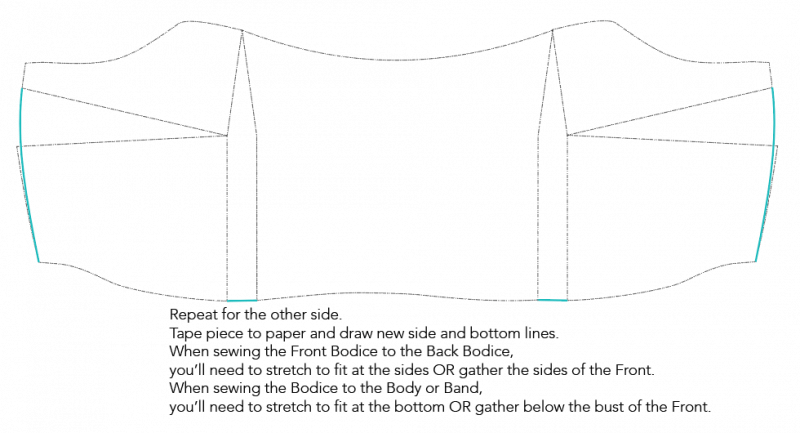 And you're done!
When you're doing an FBA on a fitted or loose pattern you will want to make sure that the Front side seams end up being the same length as the Back side seams. For a bra or swim pattern with negative ease like this one, I opted to gather in that extra fullness for more coverage. So our Front will be longer than the Back at the sides and we will just stretch the Back side to fit the front OR run a baste stitch along the sides of the Front and gather them to fit the Back sides. While we're talking about negative ease, here's how to calculate the amount of ease or negative ease your pattern has:
Calculating Percent of Ease or Negative Ease
Ease = (Finished Measurement ÷ Measurement Chart) -1
Looking at size 4X. The finished Bust is 44.8″ and the Measurement Chart bust is 53.5″-56.5″
(44.8 ÷ 53.5) -1 = -.16 OR -16% which is 16% negative ease
(44.8 ÷ 56.5) -1 = -.20 OR -20% which is 20% negative ease
So the negative ease is 16%-20% for size 4X Bust.
Note- If the final number is negative then the pattern has negative ease which means it will be tight and need to stretch around the body. If the final number is positive then the pattern has positive ease, making it loose around the body.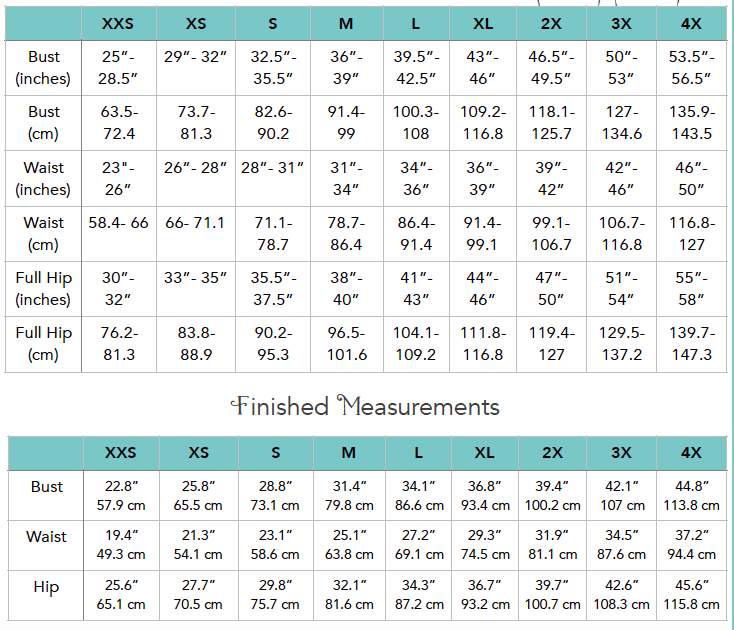 For more pattern help, join us in our Sew Along group. We're featuring the Water Faery Swim line this month and Sew Along members receive an exclusive discount code.
Happy Sewing!
Jennifer