Who doesn't love handmade gifts? I know I do! When you sew something yourself you get to decide what type of fabric and trim to use to make it absolutely perfect. And there's something to be said for the effort put into handmade gifts. I know that I put a lot of care and attention to detail to most items I sew, to me that's like pouring love into the gifts. We all know that love is usually the secret ingredient to all things amazing. 😉 Read on for a list of 12 of our free patterns that you can sew in an hour or less- all of which make excellent gifts!
Updated 12/31/2019- Many of these freebies have been retired or moved to our Accessory section for a small price (including Wonderland Cap, Wonderland Mittens, Pin Cushion, Pillowcase, Origami Bin, Santa's Favorite Stocking, Marian's Shawl, and Midnight Slippers). Please check back periodically or join our newsletter list to receive updates on future free patterns. You can still find Market Bag, Chicken Pattern Weights, Footie Sprites Slippers tutorial, and Kids Riding Hood Poncho for free at the links below.
1- Wonderland Cap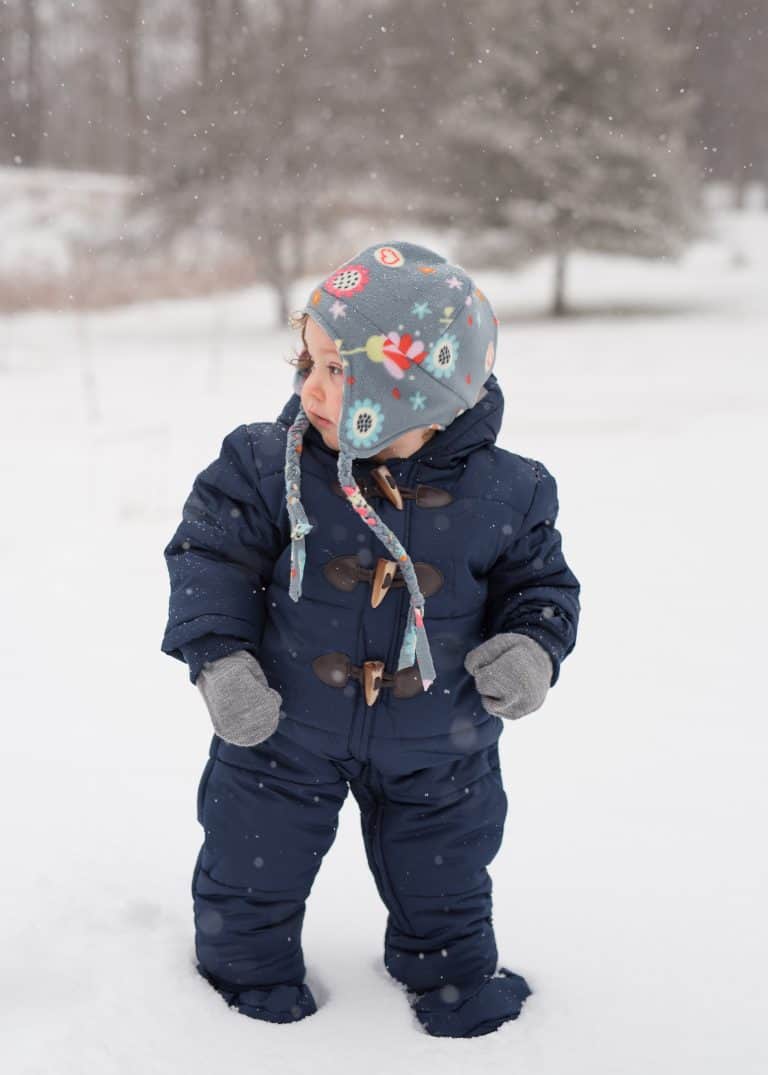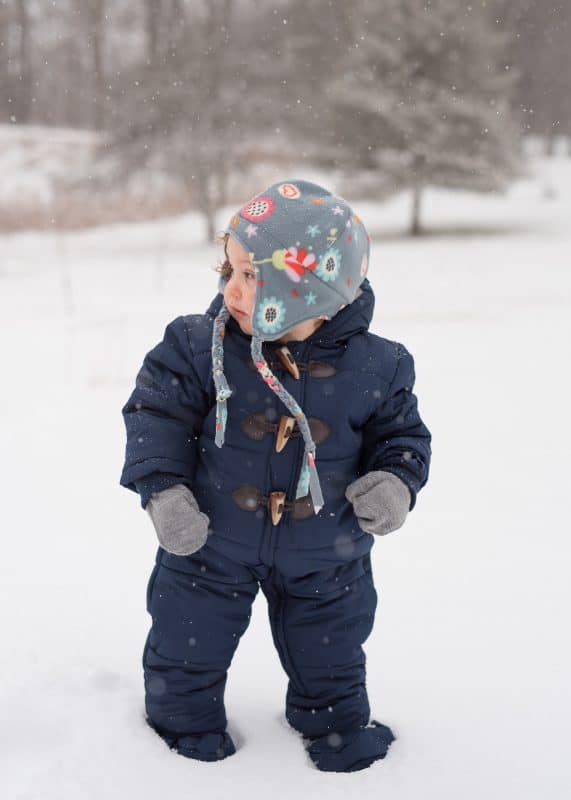 The Wonderland Cap pattern has 7 sizes included that will accommodate babies to adults. There are two main styles- with and without the ear flaps. And you can choose to add tassels and pom pom if you like. This pattern only requires 20% stretch, making it perfect for our huge stash of fleece. You can get the Wonderland Cap pattern for free by joining our newsletter and through the end of this month, you can find it in the files of our Sew Along group on Facebook.
2- Wonderland Mittens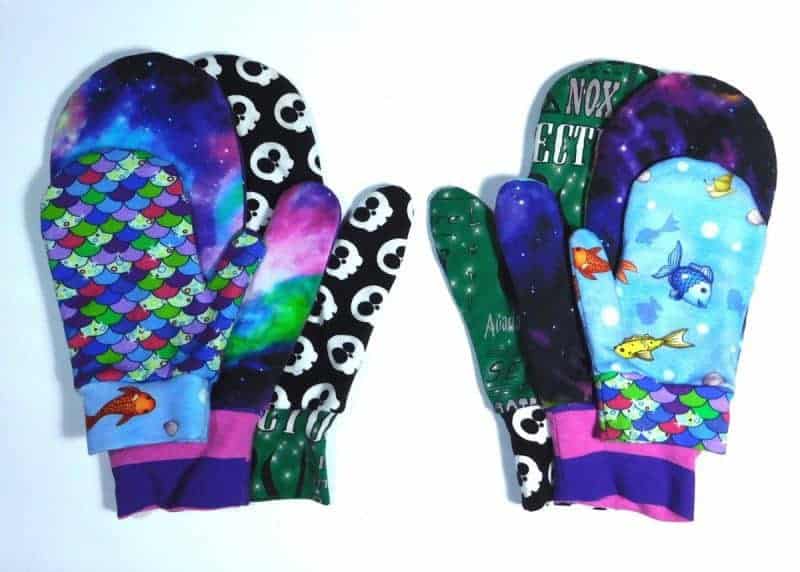 The Wonderland Mitten pattern includes sizes from 4″ hand length to 9″ which will accommodate toddlers through large adult. The mittens are fully lined and the pattern only requires about 1/3 yard of fabric with at least 15% stretch. My favorite fabric combination for these frigid Michigan winters is cotton jersey outer with microfleece lining and cotton/lycra jersey for the cuffs. This combination is thin but still super warm! You can get the Wonderland Mitten for free in our shop.
3- Market Bag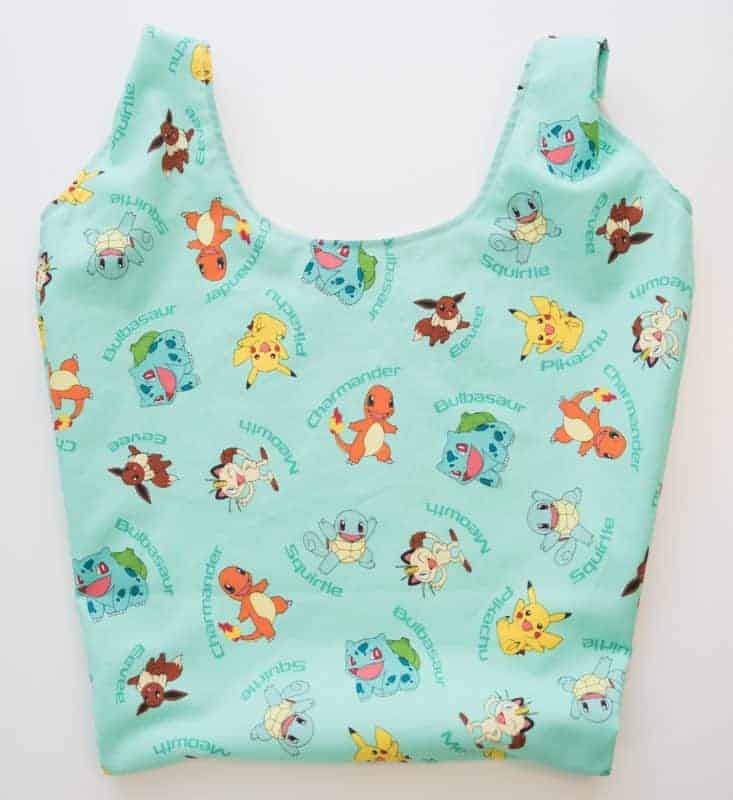 The Market Bag is designed to be the same shape and size as normal plastic shopping bags- so it fits great in bagging carousels. The pattern uses two cuts of lightweight woven fabric that are 22″ long. The double layering makes this bag very strong and durable. Don't limit this pattern to shopping bags though, it makes a great gift bag or trick-or-treat bag too! I have a stash of these that are most often used as work bags- to carry my lunch, water bottle, mail, etc. The Market Bag can be found in our shop for free.
4- Pin Cushion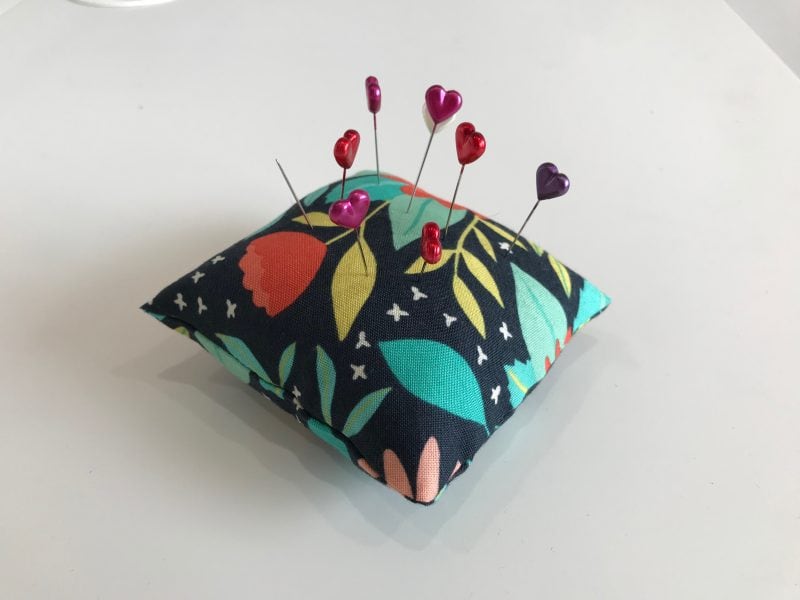 Pin Cushion and/or Sewing Class
The Pin Cushion pattern was designed for our very first level 1 sewing class. The instructions are even more informative than normal, which makes it great for brand new sewists! You can gift a little pin cushion to your budding sewist, OR you can gift a coupon for a sewing class with their new favorite person (YOU) and you'll use this pattern to teach them! You can find the Pin Cushion pattern in the files of our facebook chat group. Consider adding some of these cute heart-shaped pins to your gift- a great symbol of your love 😉
5- Pillowcase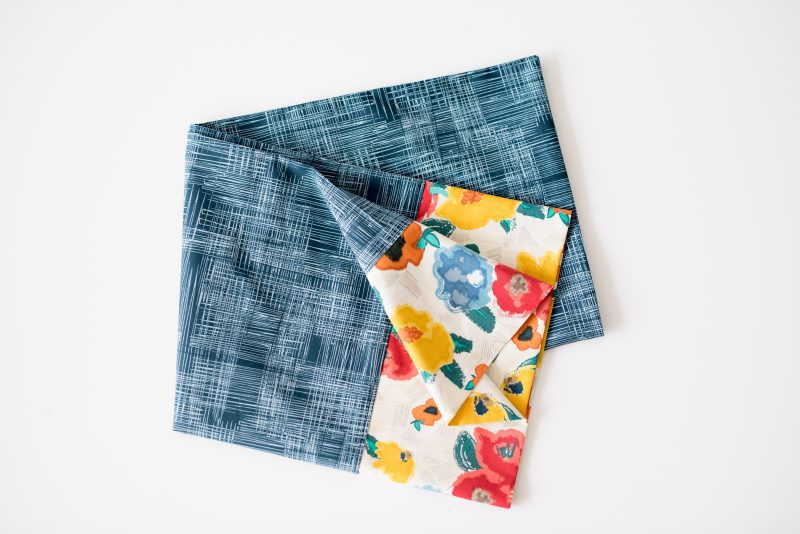 The Pillowcase pattern is another one that was created for our level 1 sewing classes- making it another great teaching pattern. It also happens to be the easiest pillowcase with cuff added that I've ever sewn- an intermediate sewist can whip one up in less than 30 minutes! Consider making a few from holiday-themed fabric for use as gift bags…ones that won't break on you! The Pillowcase pattern is available to all members of our facebook chat group, in the 'files' section.
6- Chicken Pattern Weights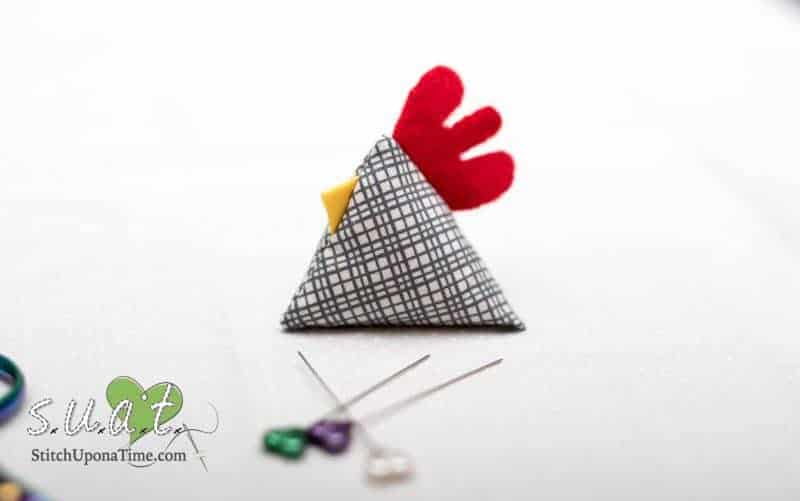 You can get really creative with the Chicken Pattern Weights! In our Sew Along group, one member added a rainbow mane and shiny gold horn to make unicorn pattern weights- so so adorable! Fill the chicken with anything heavy and you have pattern weights (or bean bags for a toss game?) or fill them with fabric scraps or fiber fill for a squishy friend or pin cushion! The tutorial for these adorable chickens is on our blog.
7- Origami Bin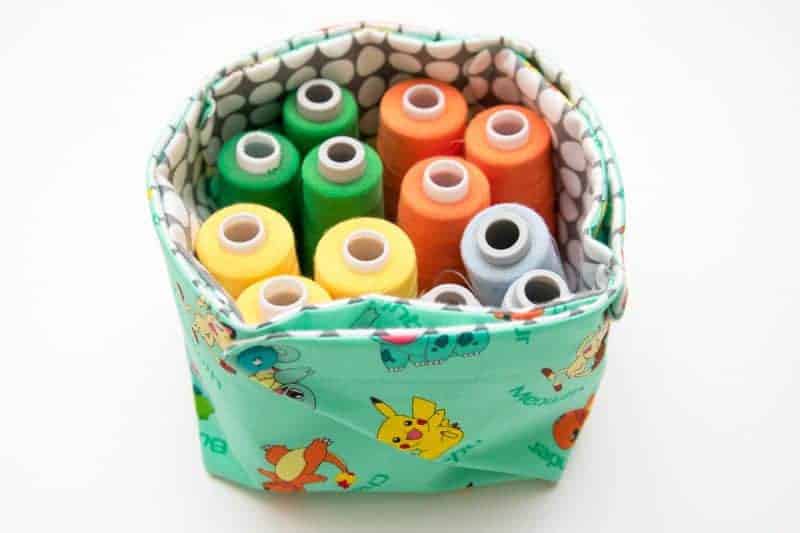 This one is so unique! You can create two sizes of Origami Bin, one that's 5″ and the other is nearly 7″. My six year old claimed this Pokemon Origami Bin and uses it to hold his Pokemon cards and figures but I love them for corralling like-items on my sewing shelves. One for thread cones, another for small fabric scraps, etc. The Origami Bin is free with any other pattern purchase, just use the code 'freebin' at checkout.
8- Santa's Favorite Stocking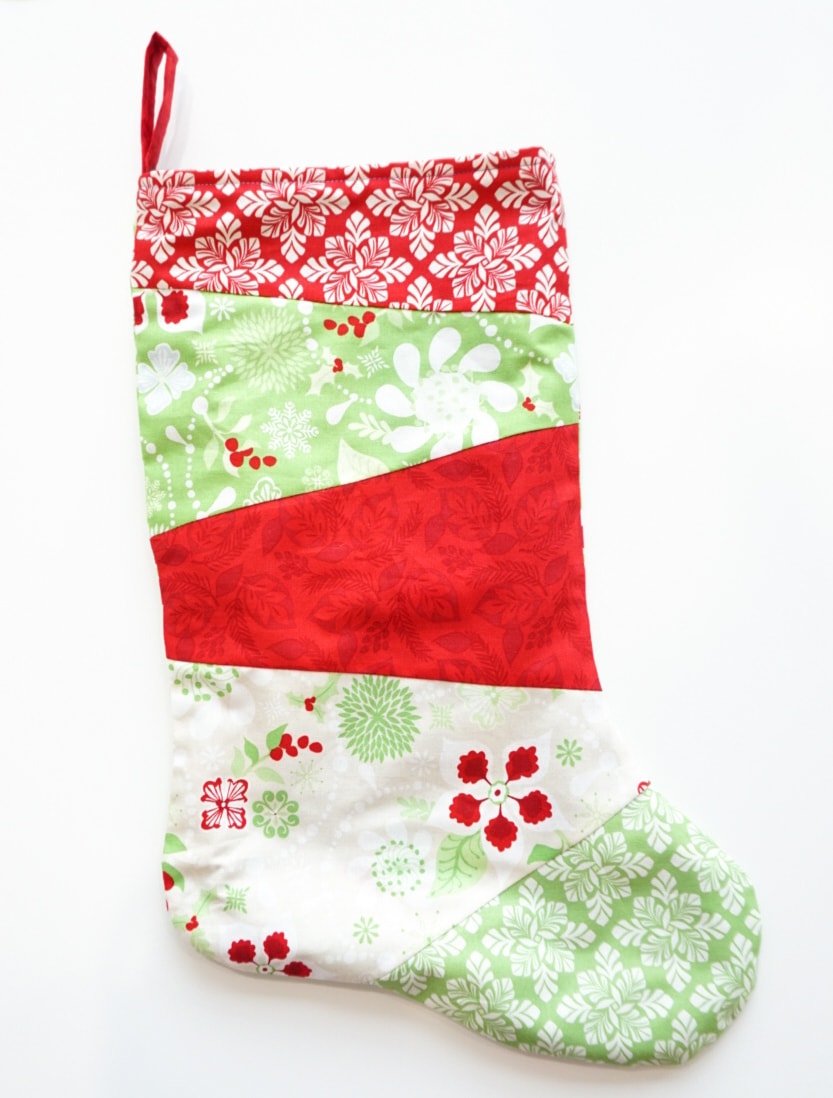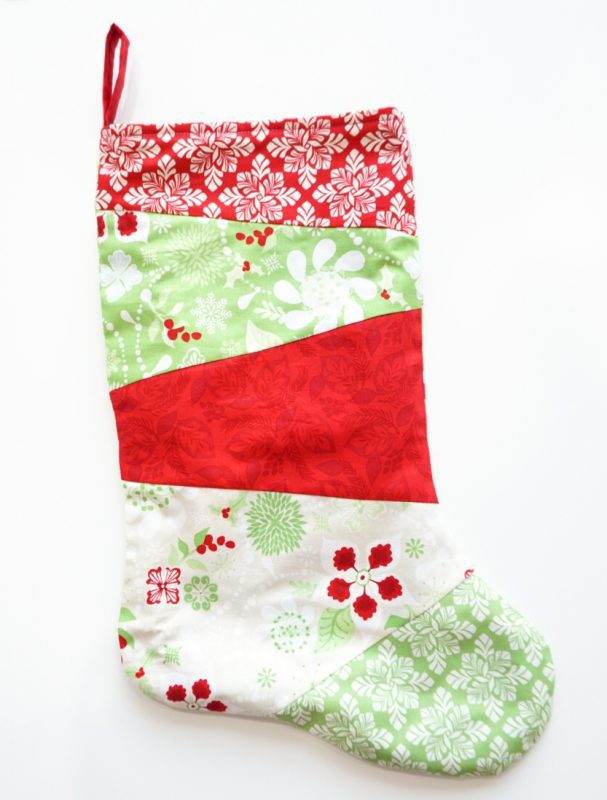 This Stocking is something I used to make dozens of back when Stitch Upon a Time was a sewing company. I think nearly all of my friends and family had one of these stockings with their names embroidered on them. I love to make them with fabrics that are special to each person. Like a charm bracelet, each fabric on the stocking is like a small token of the person's story. I'm usually very matchy-matchy, but this is one thing that I love being as unique as the people they belong to. You can grab the free Santa's Favorite Stocking pattern (which includes this beautiful color-blocked option as well as a plain one) in our Facebook chat group files.
9- Footie Sprites Slippers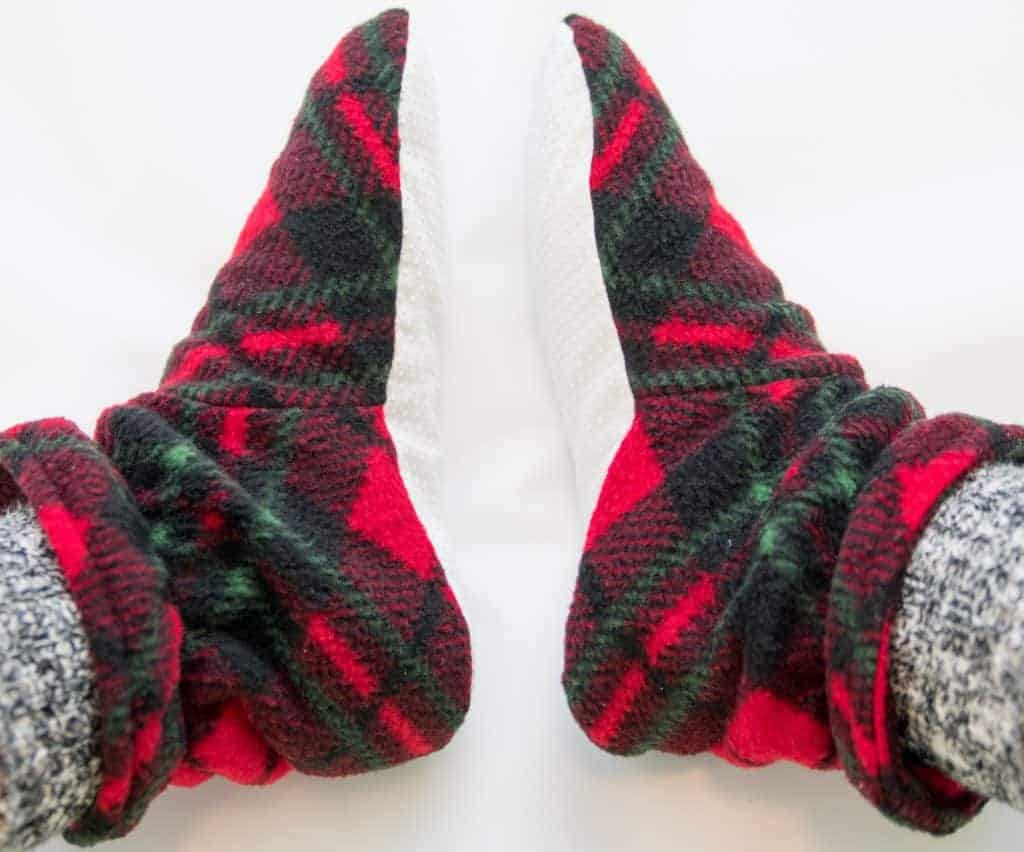 This one is actually a free mod for the paid Footie Sprites Pattern but if you have the pattern, you NEED to try these slippers out. The Footie Sprites pattern is a pajama pants pattern that can be made with and without the feet. You all probably know that I love having a complete outfit with less actual clothes worn (hello Brazi, Shirtzie, Versa, Calista, and Boxerwear!) so I adore the Footie Sprites with feet. But sometimes your feet just need to be FREE! But then they're cold. Enter: footie sprites slippers! These things are the bomb, take my word for it. Grab your Footie Sprites pattern and then the free slipper tutorial and bless your family with toasty toes this winter.
10- Marian's Cover All Shawl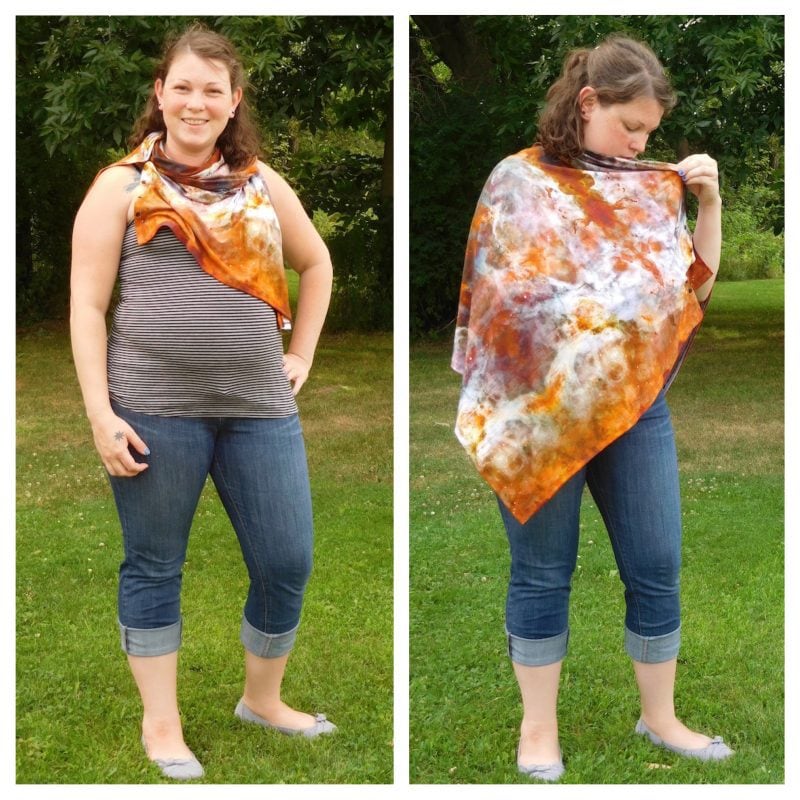 Can you say VERSATILITY with me? Versatility! This pattern is the new mom swiss army knife. It has buttons down the sides so you can wear it as a poncho or a scarf and just unbutton wherever you need for it to be a nursing cover. It can also go over an infant carseat to keep the sun and wind out. Make the Cover All from a soft knit and you also have a wonderful baby blanket! Here, let me list the ways in which I have personally used my shawl:
Scarf
Nursing Cover
Carseat Cover
Baby Blanket
Diaper Changing Blanket
Burp Cloth
Marian's Cover All Shawl is free to all members of our Facebook Chat Group. In the group announcements you'll find a coupon code.
11- Riding Hood Poncho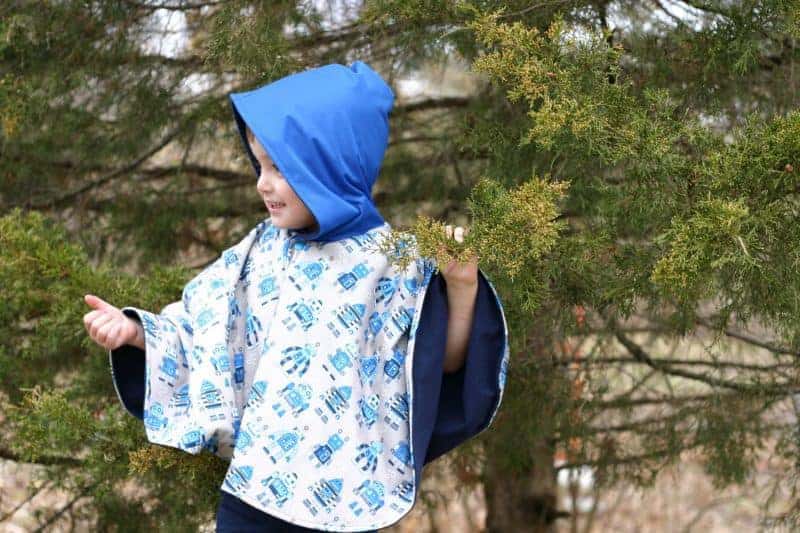 The kids Riding Hood pattern was born from my borderline-nutty obsession with carseat safety. We know that kids aren't very safe when they're buckled into their carseat while wearing a regular winter coat. Many parents just have their kids wear a fleece jacket in the car or remove their winter coat once in the car. I love using a poncho on top of a fleece shirt or jacket and then just buckling my kids under the poncho. These layers are safe and also very warm. Aside from the safety of it, the Riding Hood poncho is CUTE! We get compliments every time Ginnie wears hers and she seems to love it too! The Riding Hood Poncho is free in our shop.
12- Midnight Slippers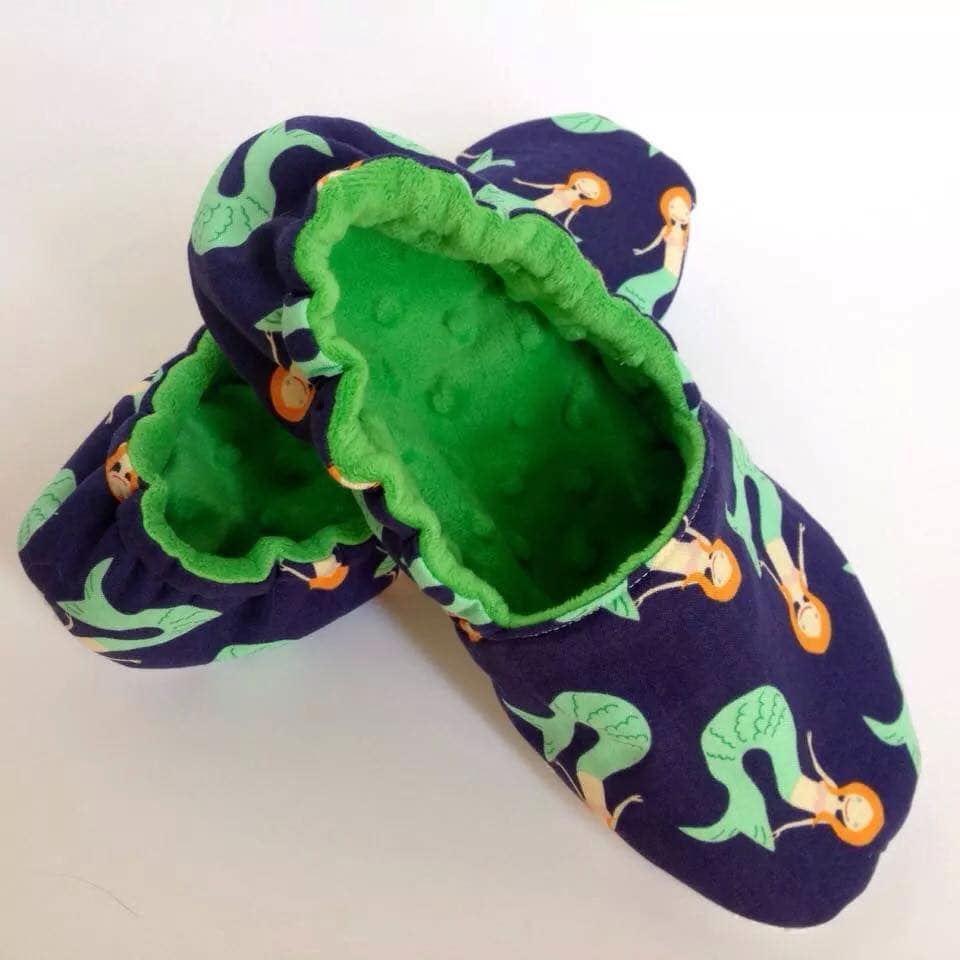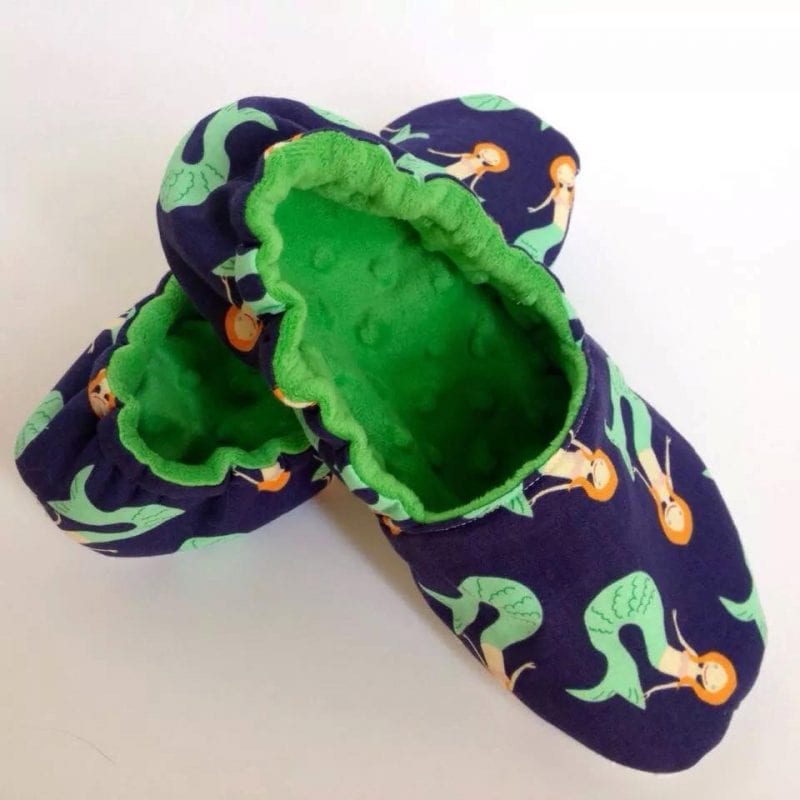 The Midnight Slippers pattern is an oldie but a goodie. Back in the custom sewing days of Stitch Upon a Time, I had a customer who wanted matching slippers with her baby son. I couldn't find any adult patterns like the baby booties she wanted so I created one. The Midnight Slipper pattern just had it's 4th birthday and we updated the pattern pieces so they look prettier- like our newest patterns. This pattern fits women's shoe sizes 5 through 12, which is a foot length of about 8.5″ to 10.75″. The Midnight Slippers pattern is free for all members of our facebook chat group. Here's the direct link if you're already a member.
I hope you found a new pattern you want to try out in this list of 12 free sewing patterns! Have you already made any of them? Leave a comment about it, I'd love to hear what you think! I normally have a huge list of things that I need to finish sewing before Christmas by now, and I usually stress myself out trying to get it all done in time. But this year I only had 3 gifts that I decided to sew because I really want to spend less time stressed out. If you're on a budget with time or money, you can consider simply giving a card with written plans for a date/ one-on-one time. It's like a fancy IOU, you'll be winning now and also when the recipient claims their gift.
Later Gator!
Jennifer