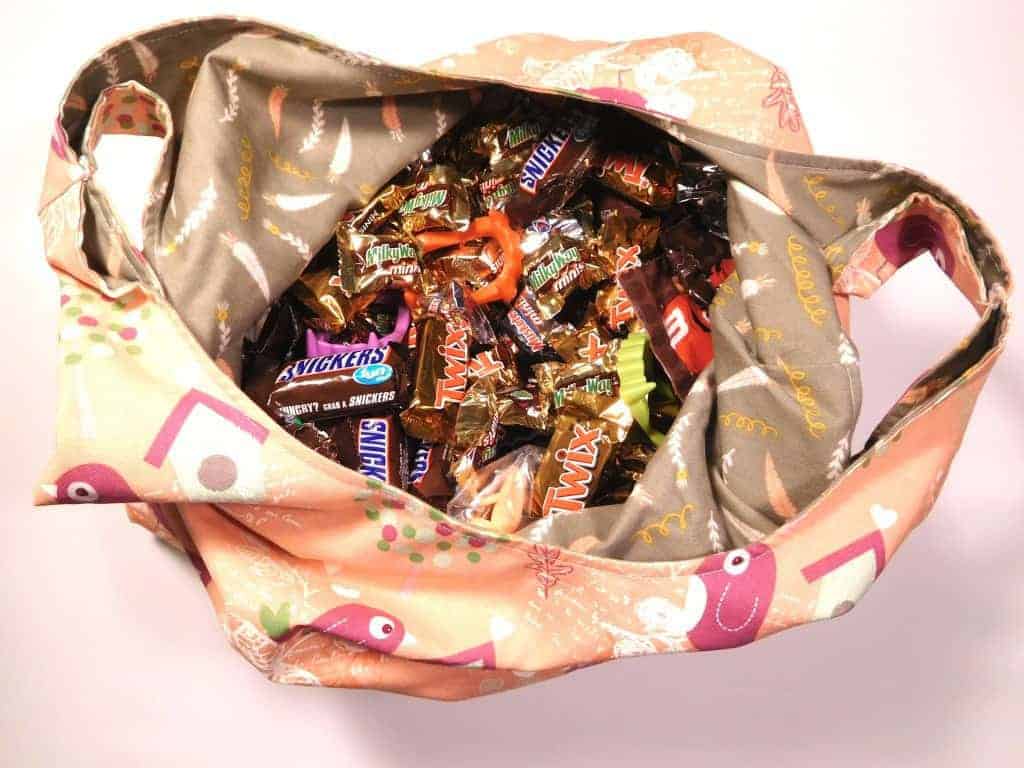 Halloween is typically about the sweets, everywhere you turn at parties, and the actual trick or treating. My family has been making it a point to make halloween about more than sweets. While we don't want our children to miss out on the main attraction of Halloween, we do sort of want them to miss out on binging on pillowcases full of sugar and junk ingredients. To do so we have come up with the Spooky Surprise Bag.
This can vary in story according to the way you want to tell it, but the basics are your child leaves an amount of candy inside the bag on Halloween night, in the morning depending on how much candy was left inside is a toy, or money or some other valued non-candy surprise. You can work the value based on age, my 4 year old has no concept of money so that's ruled out for now. Once we see the amount he's rallied up for the night we'll let him know the levels of toys available for candy left (5 pieces-a small car or sticker book, 10 pieces-a medium sized construction vehicle and so forth). The best part is that it is totally customizable, if you feel your child will think your chosen prize not worth the trade, leave money so that your little one can choose a toy within his price range at the store.  As far as how the trade happens let your imagination take reign! Perhaps you sew the bag with magic sparkly thread, maybe theres a touch of magic dust sprinkled in before bedtime, perhaps this is a witches spell bag?! The possibilities are endless!
To make one you'll need the FREE Market Bag Pattern from Stitch Upon a Time. Sew it up using your most magic thread, your spookiest fabric and most important, your wildest imagination! Have the kids decorate the bag with you, make it an important tradition they look forward to instead of sugar chasing!
The coolest part about the bag? This pattern can be turned into anything, a school bag, a reusable grocery bag there are so many uses and so little waste!
The Market Bag is designed to be compact and fold flat for storage but it has gussets to expand to hold maximum capacity. Do you guys have any Halloween traditions to ward off the sugar craze? Share them in comments below! Sew it and show it along with your Spooky Surprise Bag story in the SUAT Facebook Chat.