The positive reception for our latest pattern, Goldilegs Jeans, has been overwhelming. I'm stoked that so many are loving it and I look forward to see some more 'body love' in the chat group as a result. It's not a secret that the Scrundlewear pattern sparked a sense of body acceptance among SUAT fans since it's release. Women of all shapes and sizes have felt comfortable sharing about their "Scrundies", as they've become known, in our Facebook chat group and accompanying modeled images.

Group members share praise for the sewing work and for the confidence that it takes to put yourself in the vulnerable spot (sharing pics of yourself on the internet to be possibly scrutinized I mean). I've noted that this same camaraderie overflows into the whole group, not just the Scrundlewear pattern. I want to make sure all of our fans have the same experience with the Goldilegs pattern as they have with our others. I have to admit that when I tried on my first pair of Goldilegs, I almost cried. I felt as though I were wearing the most comfortable yoga pants. But when looking in the mirror, I appeared to be wearing (extremely flattering) jeans. This has been my vision for more than five years; jeans or dress pants as comfortable as yoga pants. I want to ensure that you have the same experience with your first pair as I did. Since there are just a couple steps that you may not be familiar with if you aren't used to sewing jeans, I'm going to go into detail about them here.
First, you have to understand my intended fit for these jeans. They are designed to be snug from the waist to the knees. With the bootcut version, they will slightly taper at the knee for a little of a flare at the bottom. The skinny version should be snug until the calves and only a little loose at the ankles.
Options
Waistband. There are three waistband options: regular, yoga, and maternity. The regular waistband is made from the same material as the jeans. It's a wide waistband with elastic hidden in the seam. Let me assure you that the elastic doesn't make them uncomfortable in the slightest; it's just tight enough to keep the pants up without being binding. With this waistband, the jeans are mid-rise. Meaning they sit just below the belly button. The yoga and maternity waistbands are to be made from a knit with plenty of stretch and recovery. The yoga band is 8″ high when unfolded and can be folded down once or twice to suit your style and shape, fold it down twice for a low rise jean. If you make the yoga band from a contrasting knit and fold it down far enough, it appears like a tank top under your shirt. The maternity waistband is like the yoga waistband but higher to go over a round pregnant belly.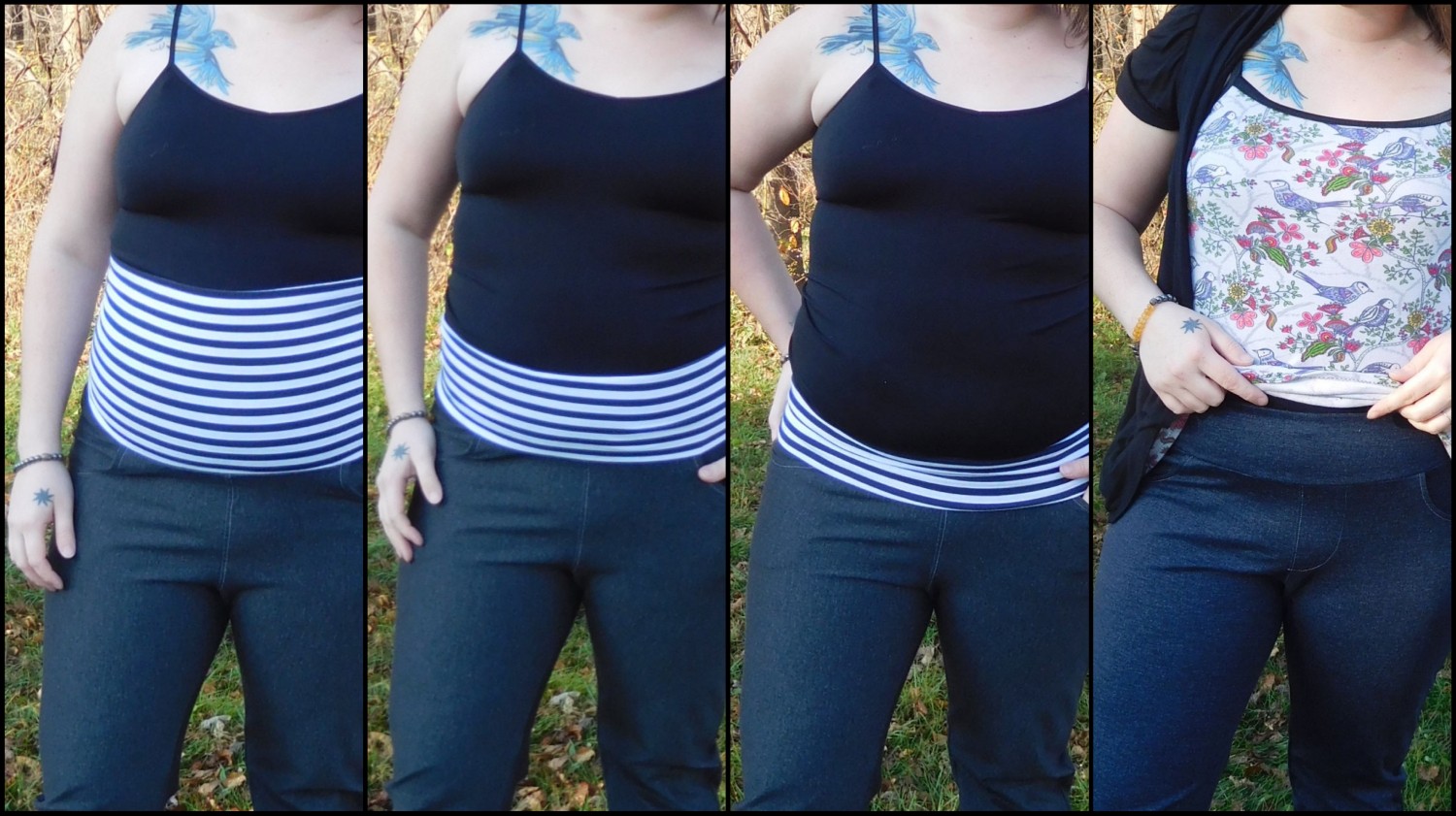 Pockets. You can choose to add regular front pockets, faux front pockets, or none. Regular front pockets are your typical front pockets for jeans or more formal pants. Faux front pockets are great if your fabric is rather thin, I suggest having a faux front pocket or none at all. Thin and stretchy fabrics don't hold their shape well enough for regular front pockets. For the back, there are regular back pockets, welt back or none. Regular back pockets are the normal, 5-sided back pocket. Welt back is a more advanced pocket style. Add this style pocket for a more refined look.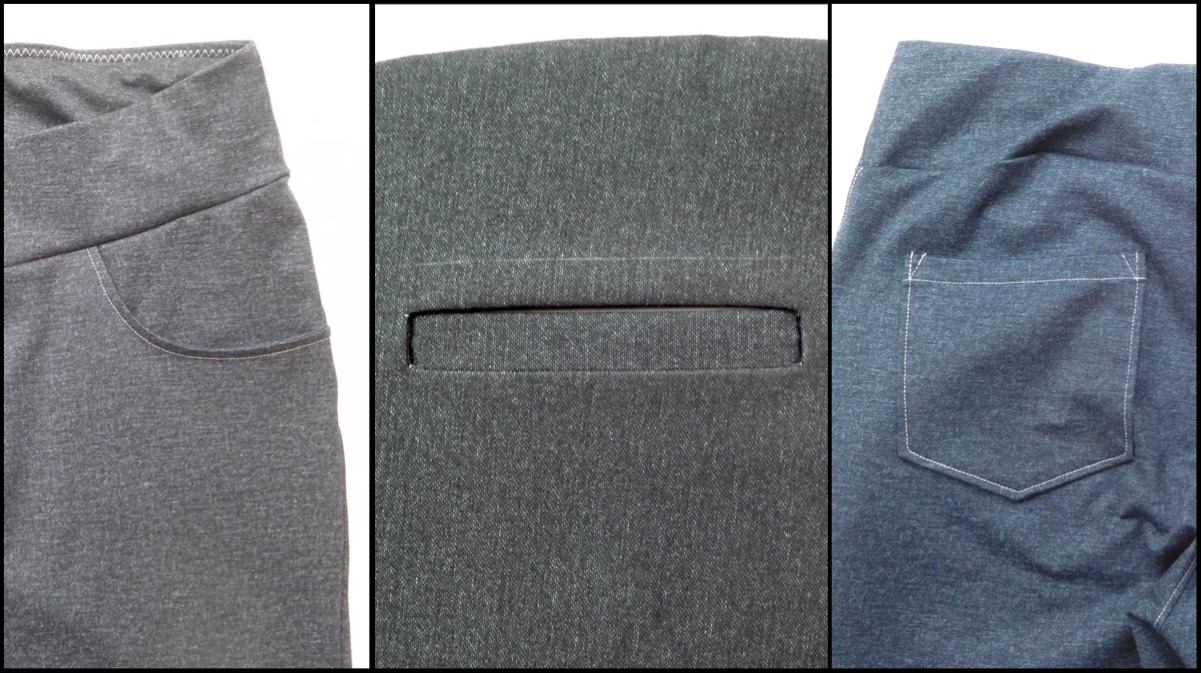 Lastly for options is the option of adding a faux fly or not. The faux fly gives the topstitching on the front of the jeans to make them appear more "normal".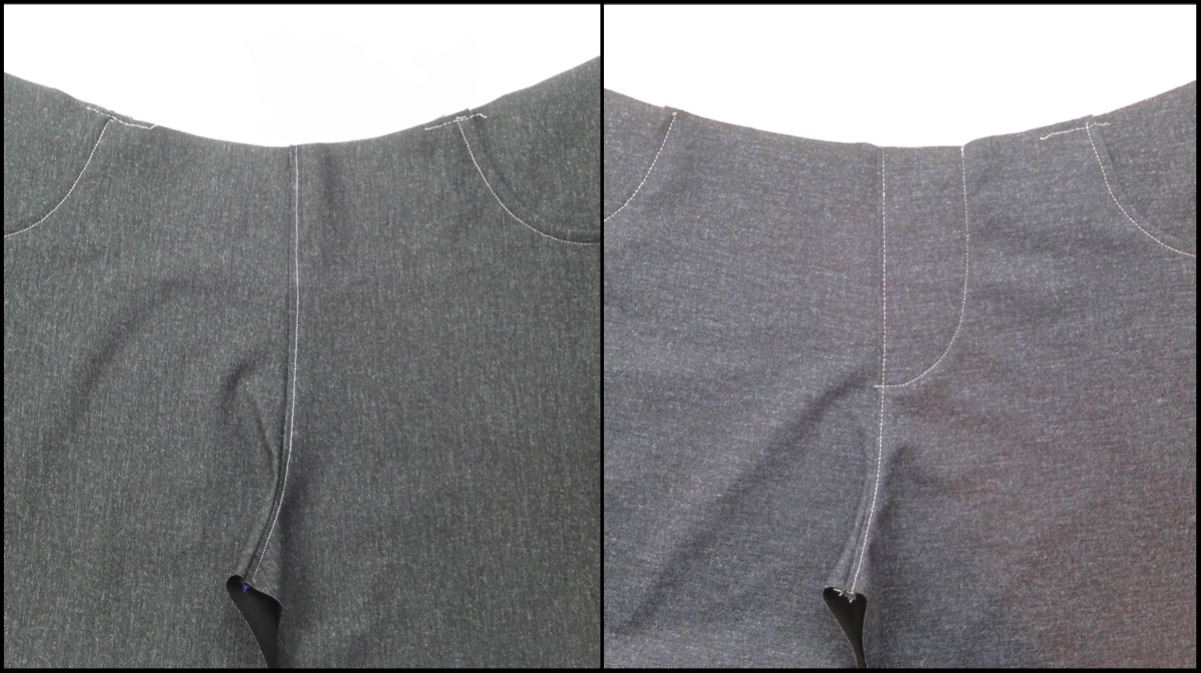 While that is certainly a lot of options, the instructions are still very easy to navigate.
Sizing
There are 9 sizes included: XXS, XS, S, M, L, XL, 2X, 3X, and 4X which will fit "full hip" measurements of 30″-58″. The "full hip" is not the same as a "hip". The full hip is measured at the fullest area of your hips and backside (I'll say it, your butt). It is designed for the average height of 5'6″ and has a 32″ inseam. Having the correct inseam is very important to getting the best fit. If you're making jeans from scratch, you ought to get the fit perfect, right? The best way that I have found to measure your inseam is to find a pair of pants that have the perfect length for you and measure them. Lay them flat and measure from the crotch seam to the hem. This is your inseam. Now you can alter the length of the pattern to be the perfect length for you. If your inseam is greater than 32″, you will need to add the difference to the pattern. If yours is smaller than 32″, you will need to subtract the difference from the pattern. Here's a great tutorial I found for lengthening or shortening a pattern.
Fabric
Goldilegs can be made with a medium weight jegging knit or a stretch denim fabric with at least 25% stretch.
For more info, check out the Goldilegs listing images.
Whew! That was a lot of info for one post, right? I hope we convinced you that you DESERVE to be comfortable every day, no matter what you're doing, and Goldilegs can help with that. Don't worry, we won't tell anyone that your jeans feel like yoga pants to you, we'll leave that to you 😉