To say that my dad lives by the motto, "One man's trash is another man's treasure." is an understatement. But let's just say he's thrifty. He recently brought me this office chair for my sewing space and it's a huge upgrade from what I was using (a metal folding chair), holes and all. I'm pretty sure someone had thrown it away and he nabbed it up. Thank you, Kon Mari 😉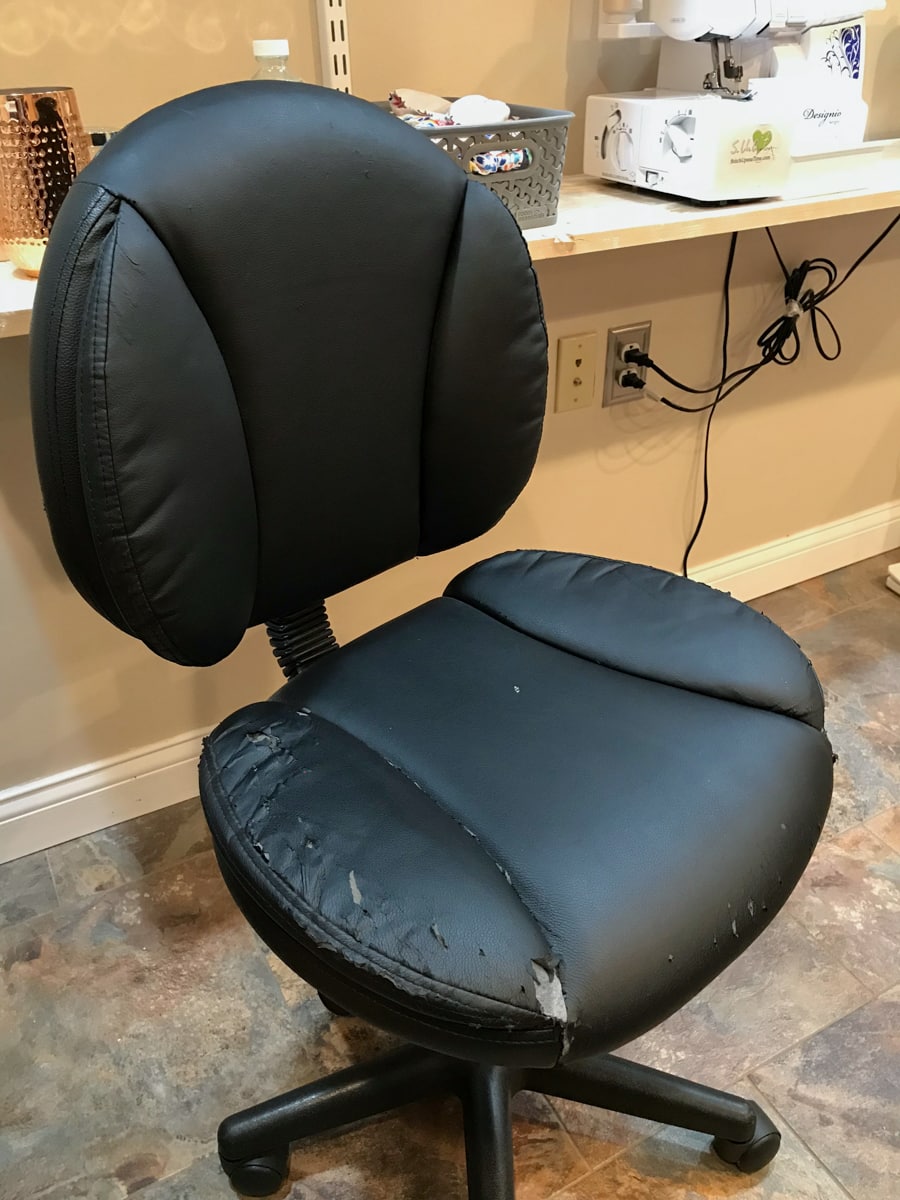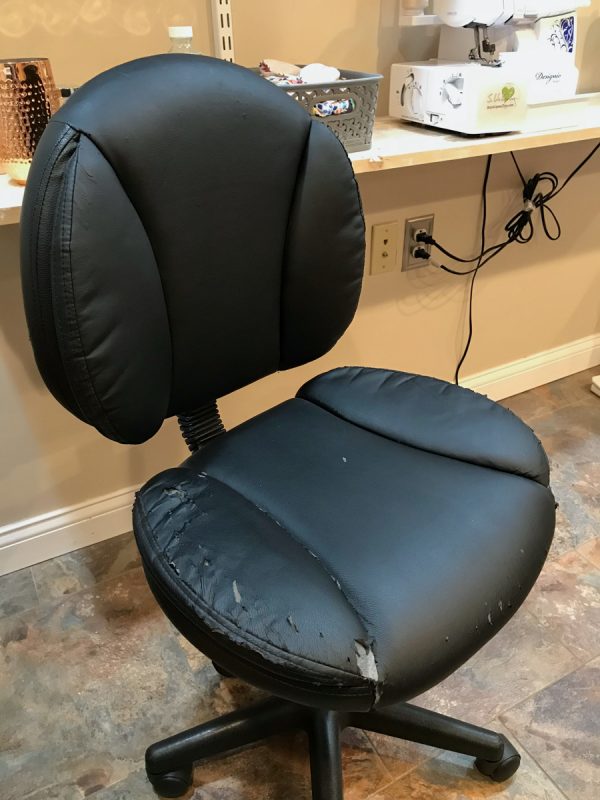 When I entered my sewing space the other day, fully prepared to "get some work done", I laid eyes on the holes in this chair and then on this beautiful succulent fabric I had bought for a sofa pillow (which ended up not working in the room). I couldn't get ANY work done until I got THIS done! By "this" I mean this super cute chair cover! It only takes 30 minutes and less than a yard of fabric and elastic. Let me show you how easy it is to make your own chair seat cover.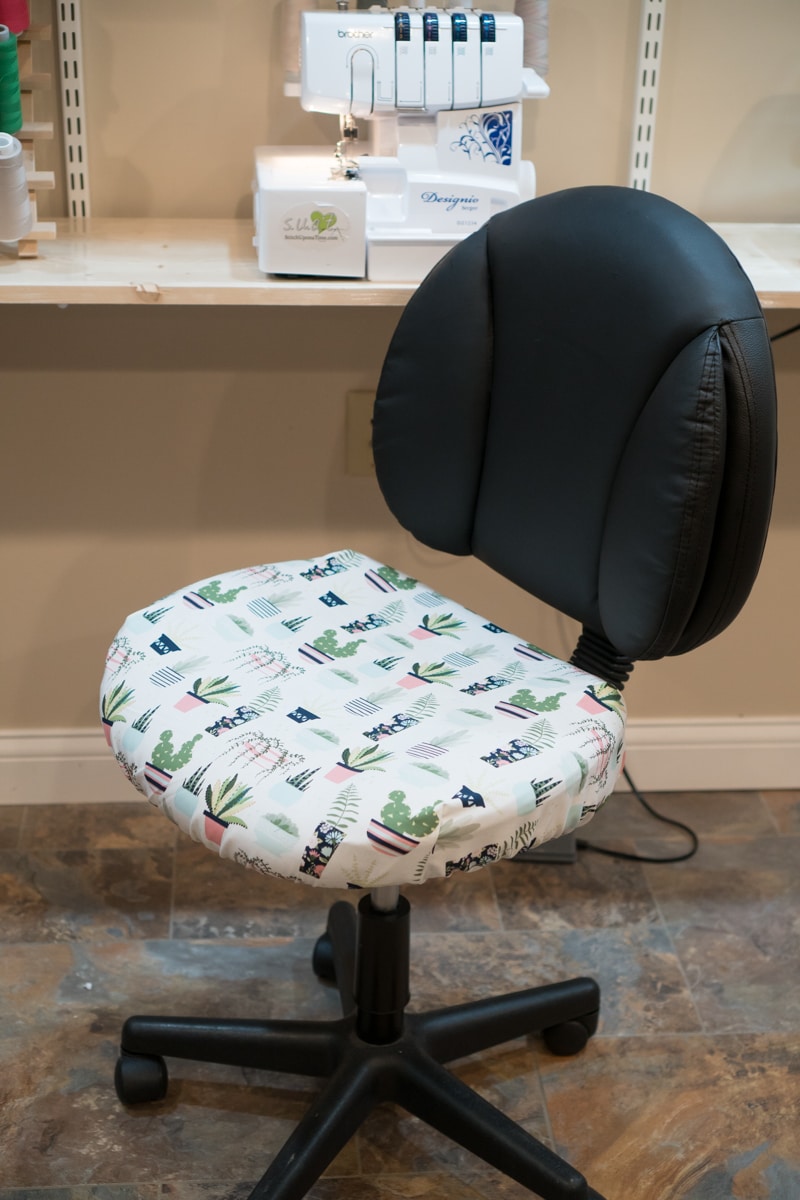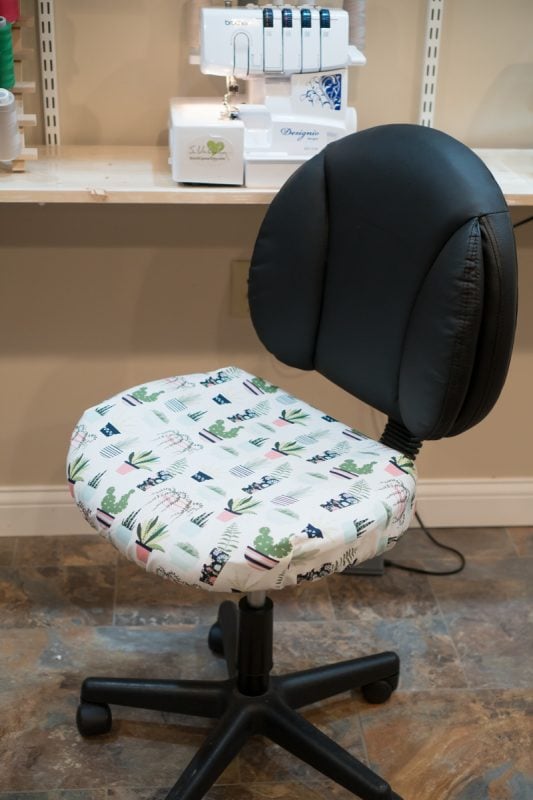 Start by draping your fabric on the seat. Make sure that the fabric hangs down enough on two sides so that it wraps around and then under the seat by about 1″. The other two sides will be long.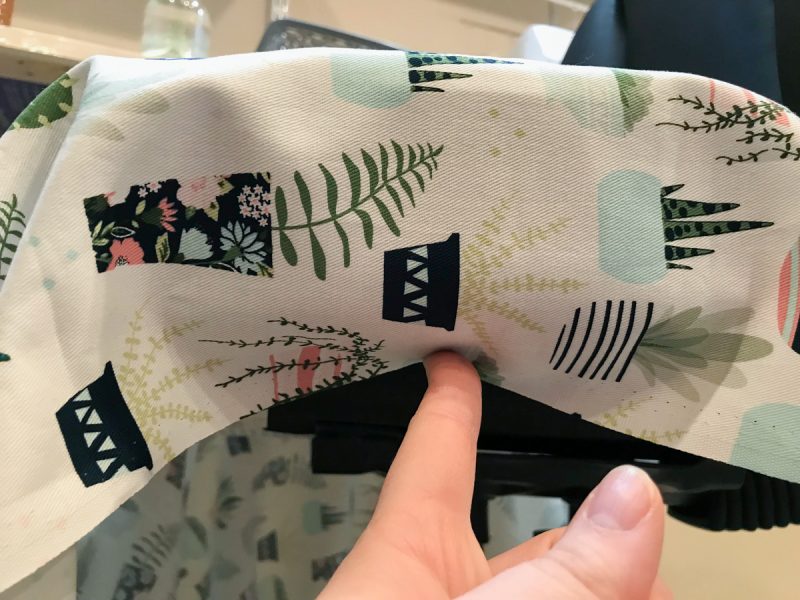 Roughly measure and mark the long ends of the fabric so they drape over the seat by the same amount.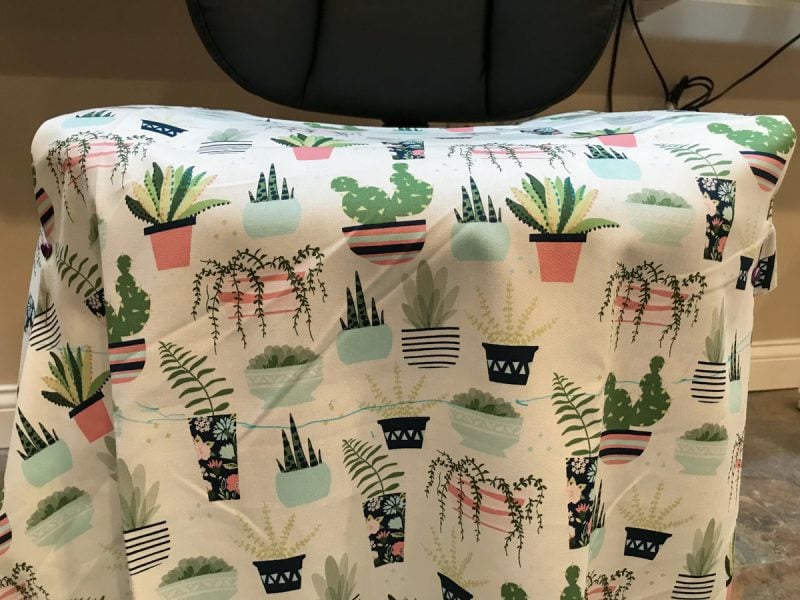 Cut out along the line, smoothing it as needed.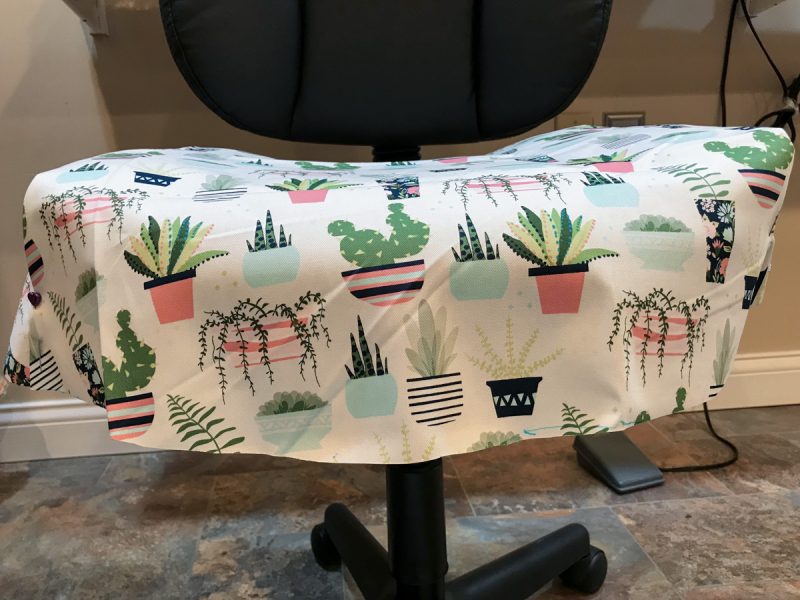 I didn't want my cover to have tons of gathers all the way around so I created my cushion with darts in the corners for a more fitted shape. Pinch in the excess fabric at one corner to the underside (creating a pleat) and pin in place. Repeat for the other three corners.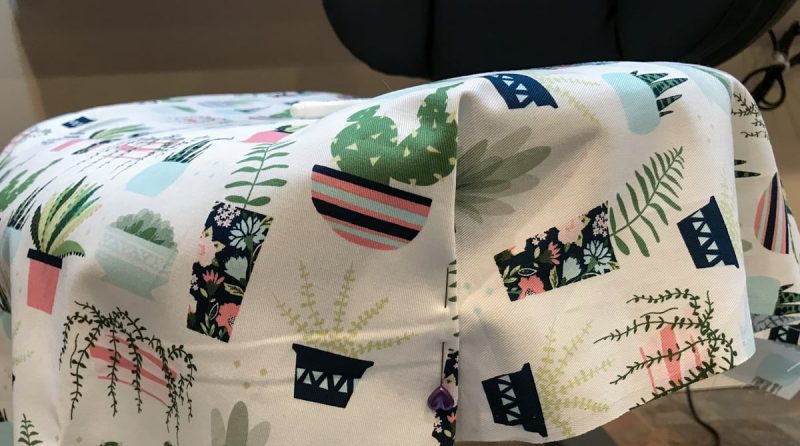 Use a serger or zig zag stitch to finish the edge of the cover.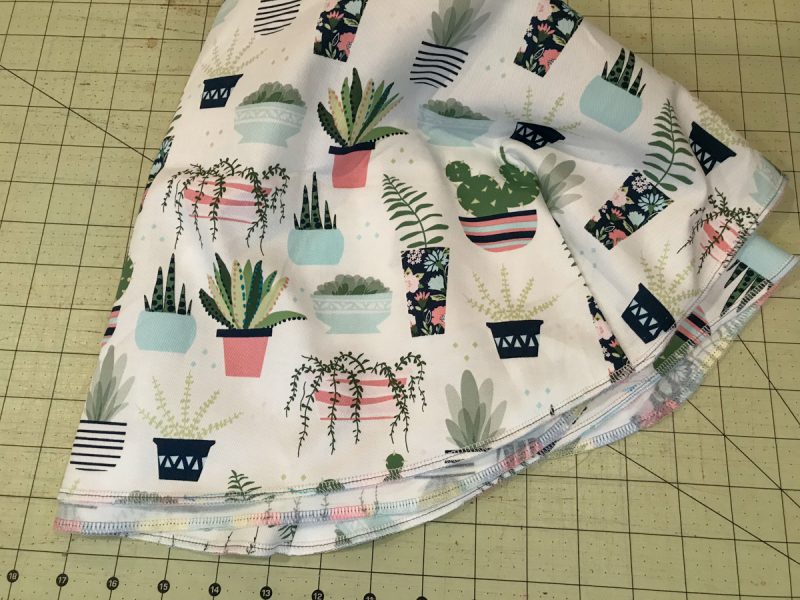 You'll need a long piece of 1/4″ wide elastic, I just sew the elastic onto the cushion straight from the roll and cut off the excess afterward. Place the end of the elastic on the wrong side of the cushion, with the edge of the elastic aligned with the edge of the cushion. Use a stretch stitch to sew the elastic end in place. Stretch the elastic almost as much as you can while you sew it to the cushion, all the way around. Sew until the ends of the elastic overlap by about 1/2″. Cut off the excess elastic.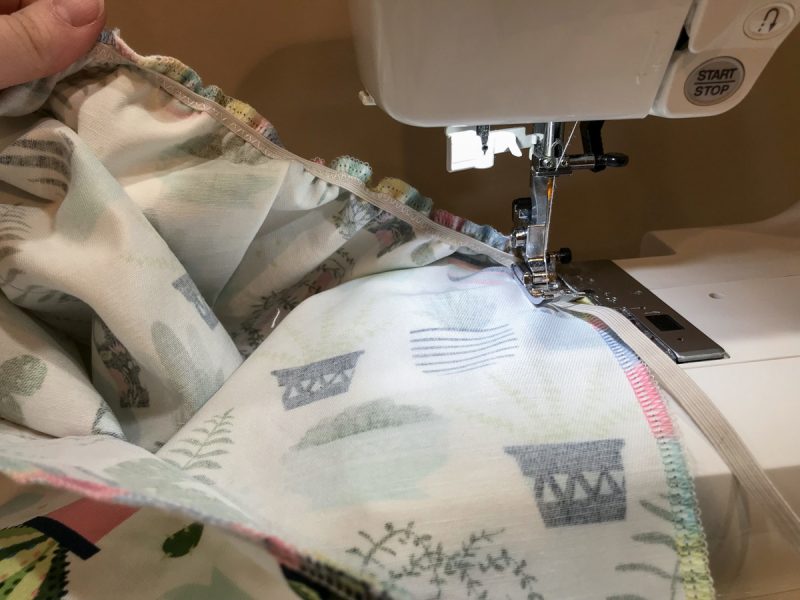 The seats on this style chair all vary slightly but you can use this tutorial for all of them. For a more crisp-looking finish, you can sew the pleats/darts in each corner. Not bad for a free chair and a yard of extra fabric, eh? And it makes a world of difference to the look of the space!
Does your sewing chair need a makeover? Share your makes with us on Instagram @Stitch_Upon_a_Time with the tag #suatchairfacelift
Happy Sewing!
xoxo Jennifer