For most people, the men's Boxerwear and Grundlewear patterns will fit and feel comfortable as written. But some people find that the pouch is too tight and adjusting the Front pieces for a more roomy pouch is a simple process. The photos below are from the Grundlewear Briefs pattern but the process is the same for the Boxerwear pattern and any other underwear pattern that has a separate piece for the Front pouch.
To begin, I always suggest making a muslin quality garment before using your final fabric. The fabric you use for the muslin should be the same type of fabric with the same amount of stretch that you will use for subsequent garments. After trying on the muslin you will know if you need a more roomy pouch and where the room needs to be added.
When adding more coverage to the Front/Pouch piece, we need to make sure that the perimeter of all of the outer edges stay the same length so that they'll still align perfectly with the body piece when we're finished. We also need to make sure that the Fold edge and the edge that will become the dart remain perfectly straight.
1- Print the Bottom Fly Front OR the Front, depending on which version/pattern you're going to sew. If you're sewing Boxerwear, cut the Front pattern in half vertically. Now the pattern will be "cut 2 on Fold" rather than "cut 2".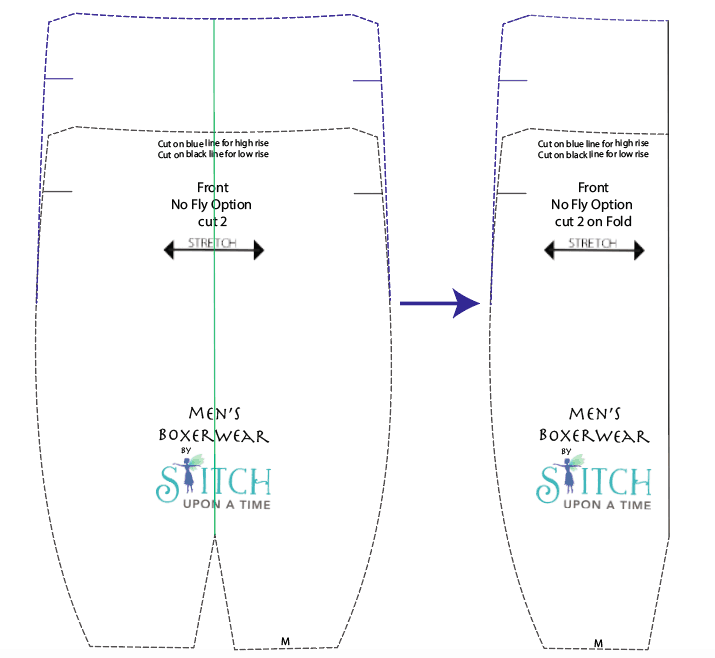 2- Cut the Front piece at the areas outlined in blue. Note that only the vertical line is cut all the way to the edge of the paper. Tape the bottom edge together. (Outlined in green.)

3- Place a blank sheet of paper behind the pattern piece and tape the Fold edge of the Front to it. (Outlined in purple.)
4- Pull the curved edge on the left out toward the left by 1/4" or more, depending on how much extra room you need. Smooth out all the cut edges and tape to the paper. (Outlined in yellow.)
5- Draw a straight line onto the paper connecting the top and bottom edge of the dart.   (Outlined in red.)
6- Trace the remaining edges onto the paper and cut out. 

If sewing the Fly option on the Grundlewear pattern, align the Top and Bottom Fly Front pieces at the notches and transfer the changes from the new Bottom Fly Front onto the Top Fly Front. Similarly, if you're sewing the Fly option on the Boxerwear pattern, align the adjusted Front with the other Front piece and transfer the adjustments over.
I hope you enjoy sewing your underwear! Please share your makes with us on Facebook or Instagram!
Happy Sewing!
xo Jennifer