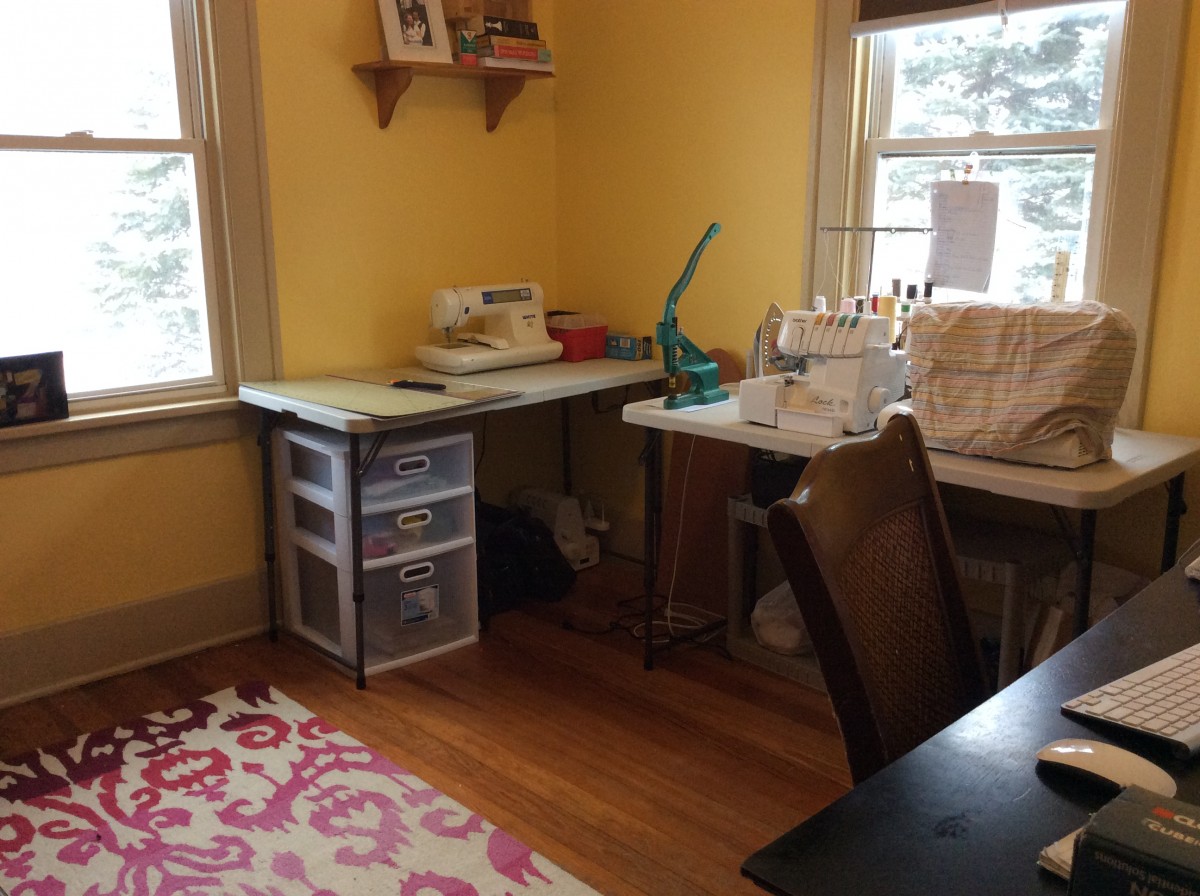 You walk in, to your right is a tall shelf perfectly lined with folded fabric, to your left a beautifully organized sewing table complete with a cutting table and organized sewing supplies drawers. You open the drawers, theres one for each sewing application you might need, snap fasteners, buttons, needles and elastics. Above that a thin wall shelf that holds every thread color imaginable in grading order. Close by, a computer to manage all your pattern and fabric ordering needs. Sounds pretty magnificent huh? Talk about efficiency, order and ease of use of a sewing room!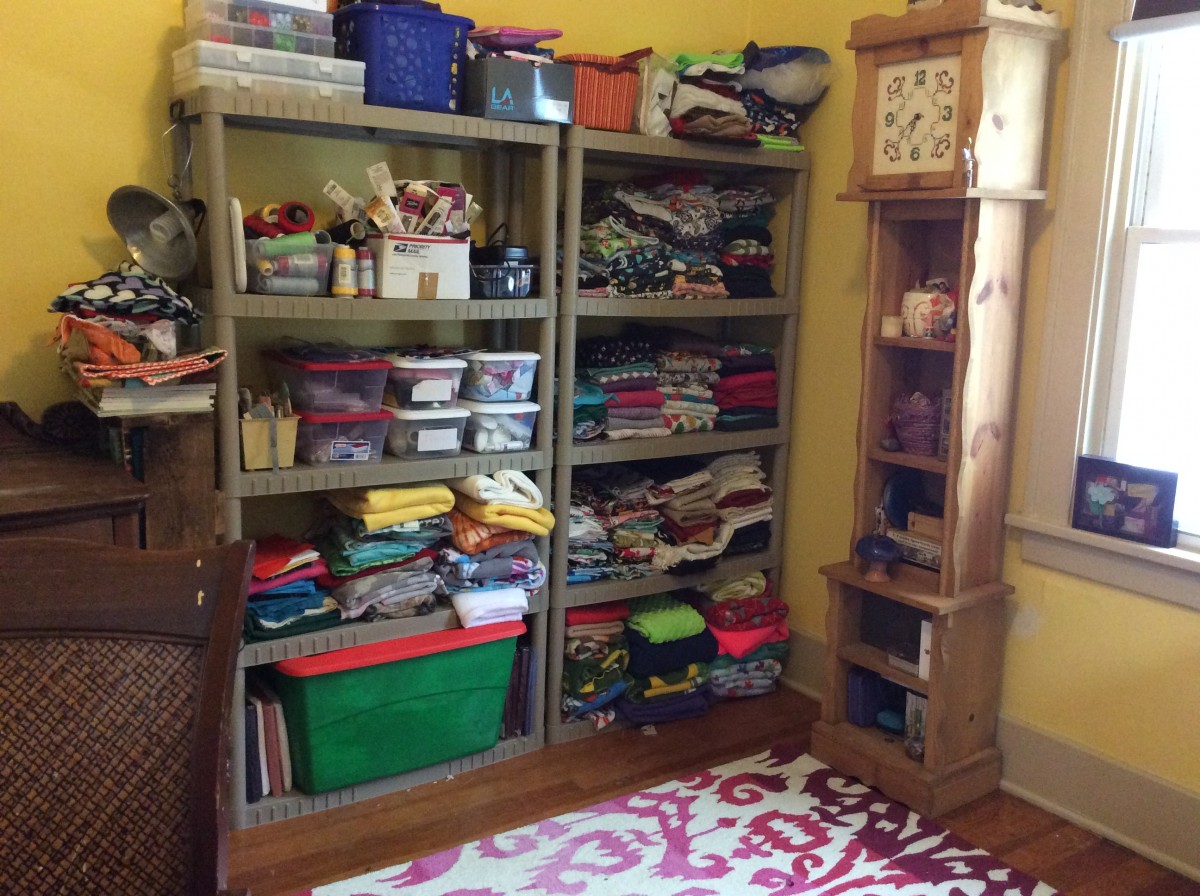 Lets be realistic, while sewing rooms will contain a few of those aspects most won't contain all. That perfect description isn't what most sewing rooms would get, at least not always, and rightfully so! A majority of pattern makers and sewers in general aren't only running the sewing room. I've found a lot of sewers and pattern makers are running a whole household or a full/part time job outside of home and managing families, Stitch Upon a Time is included in that description. I hung out with Jennifer to get some behind the curtain answers about the business you guys love so much!
Ever wonder what might have been Jennifer's very first inspiration, what really sparked her to start sewing? There isn't a clear memory of why she wanted to start sewing, but there is a first memory of sewing interest. When Jennifer was 10 years old she was diagnosed with cancer. As a cancer patient you get to spend a lot of time with a lot of nurses, one nurse in particular Jennifer mentioned her desire to sew. This nurse decided to give Jennifer her old sewing machine which Jennifer stated "Was a beauty and a workhorse and pretty much love at first sight." Thank goodness for the kindness that nurse showed Jennifer, perhaps that was the perfect time to be introduced to such an amazing, purposeful skill!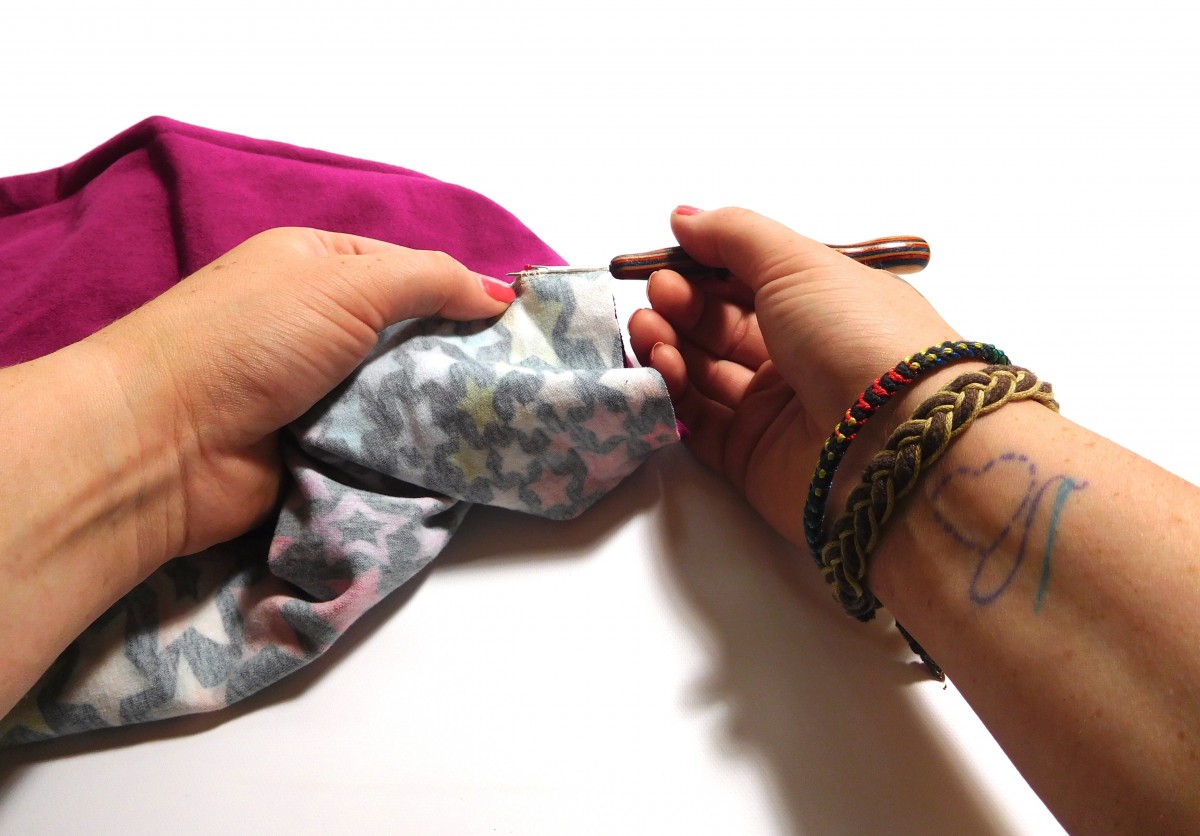 From the very beginning Jennifer loved sewing and dreamed of having a business doing so, specifically a tailor shop! Tailor shop at the time, seemed the only way for Jennifer to make money sewing, but was something very quickly tossed out the window as she now detests tailor work :). Stitch Upon a Time actually started in 2009, ten whole years after sewing as pure hobby!
So you might be curious, is sewing/pattern making something she has learned or taught herself? Jennifer's mom plays an important role in this part of the story. Jennifer's mom took the time to teach her everything she knew from her home ec. class in high school. After those basics were mastered it wasn't long before Jennifer taught herself everything else and her mom began passing alteration jobs onto her. Once the hobby had moved to the next level Youtube became her best friend! Jennifer said "There are still techniques that I'm mastering and some I am yet to learn. Sewing is an art that (I don't believe) can ever be mastered 100%. There is always something new to learn". Don't let that intimidate you perfectionists out there, after all they say Rome wasn't built in a day 🙂
Time, where does it go and where can I buy more!? Jennifer said that this is one of the biggest challenges of running SUAT. Her exact thoughts, "I love my "job" so much and I just want to "work" all the time. Finding the balance between work and family is very difficult, especially while a pattern is in testing. I find myself working for 12 hours or more each day during testing. The balance is hard to find, working from home is so much more difficult than I imagined. It's difficult for my toddler to understand that even though mommy is here all the time, she can't play all the time." Stitch junkies, know that you aren't alone in the time struggle, small steps can make great distance, but you have to keep stepping!
What provides the fuel for the SUAT flame!? Jennifer says her biggest inspiration and reward for continuing to create is you guys, the SUAT fans! "I love the emails from customers for help with a pattern. I love to help people and I love when people find a great fit with one of my patterns. I know that the online support for PDF patterns is a big selling point for a lot of people. You don't have to fear whether you are skilled enough for any of my patterns because I don't mind holding your hand through it." Talk about amazing customer service!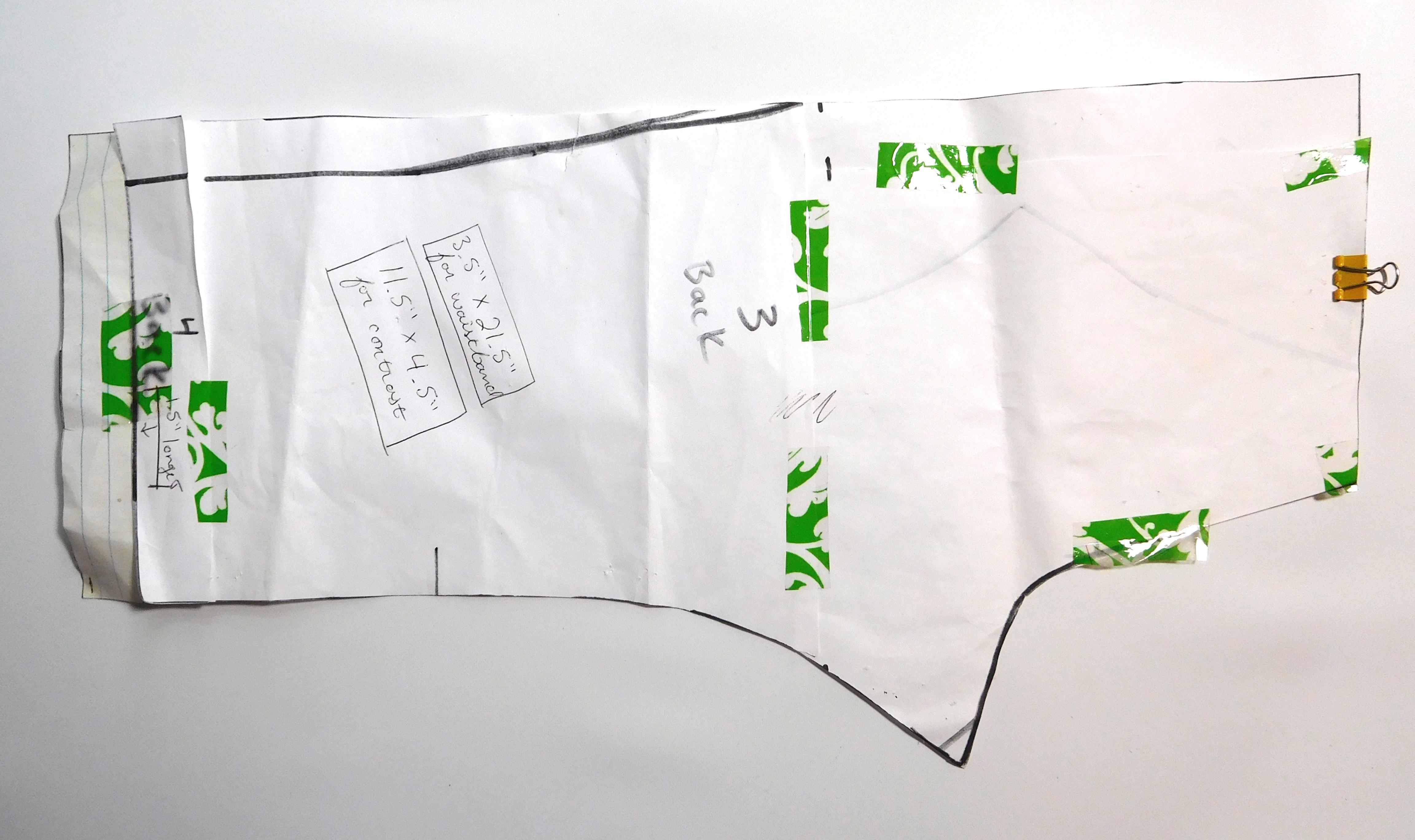 If you've been around since the beginning you might recognize the Beanstalk Britches, Jennifer's very first pattern. Despite the amazing women's patterns out now, children's patterns was where Jennifer had at first felt most comfortable. Upon taking the plunge into women's pattern designing they are now easily her favorite place to be. The women's patterns are designed to be flattering on every body shape and because of that women feel confidant in them! So confidant that if you're from the Facebook chat you know the SUAT chat group has become a sort of haven for women to share the creations they are proud of, regardless of shape and size. There is no body shaming and you will see comments saying you look beautiful whether you are a XXL or XXS.
Back to the top of the post where we spoke of the perfect sewing room, I asked Jennifer to describe hers! Her response might surprise you. "Right now? It's the messiest room in my home. On the floor, there are a couple of days worth of fabric scraps mixed in with toddler toys and my desk is cluttered with water bottles and with note books filled with pattern notes and sketches. I do find it very difficult to sew in a cluttered space though, so I often have to spend twenty minutes cleaning before I can sew." she said. Have you ever heard of creative chaos, it's a real thing most creators, whether artists, sewers or songwriters can all experience.
Now for the juicy stuff! I asked Jennifer if there were any hints on future projects or changes to the business she might feel inclined to expose. She said SUAT has grown far beyond her dreams already. But she has big plans for the future and she's really excited to share with you. She is currently working on a tutorial to add pockets to the Willow Shorts & Skirt, look for it on this blog tomorrow!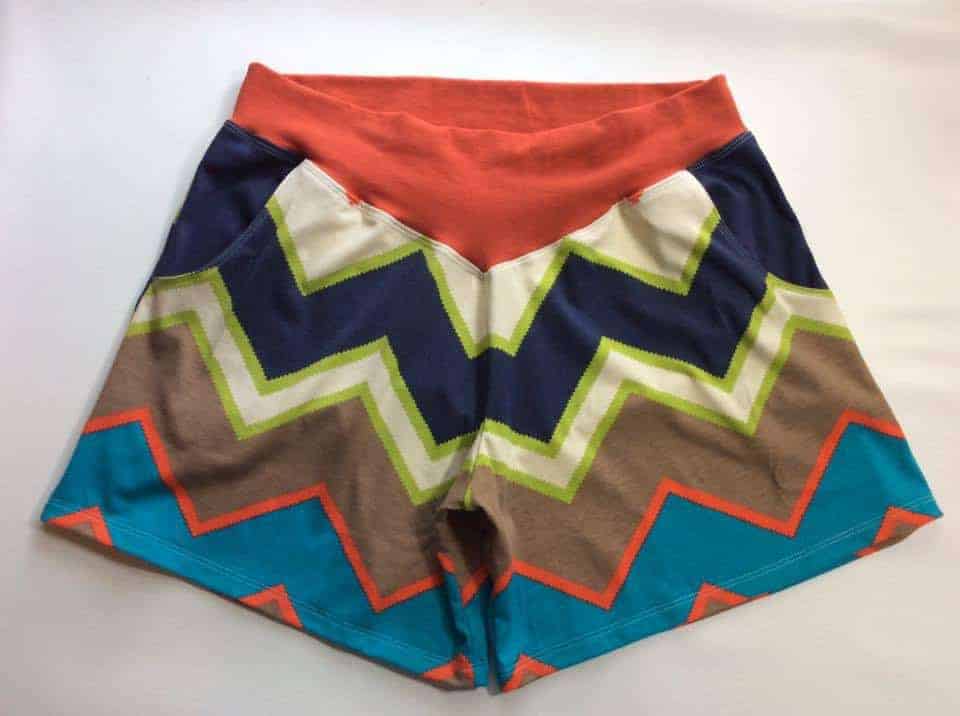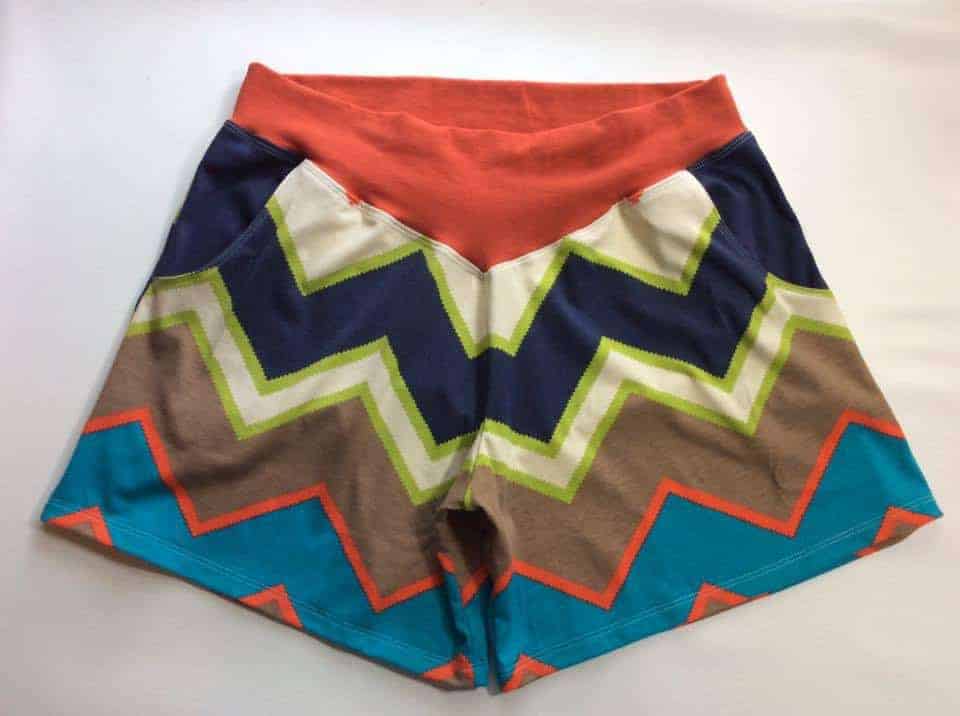 As far as patterns, there's a list of about 20 patterns on her to-do list and she never knows which will be made next until the inspiration bug bites her.  Now that we have a list of fan suggestions there is even more for her to get bitten by. 🙂
As for closing words, Jennifer said "If you're hesitating to start a new project, stop! Just jump in. Don't worry about the mistakes you will make because it is all a learning experience. And keep the seam ripper close!"
If you guys liked this Behind the Curtain type post, let us know in the comments and if you have any burning questions you want asked, leave those below too and maybe we can do another post like this!